10 Acne Products that Beauty Influencers Recommend
Acne is the buildup of excess oil and bacteria which causes inflammation. This leads to skin bumps, pimples, and redness. It can vary from mild to extreme, and can sometimes be painful if not properly treated.
Though it's more common among teenagers, it also affects anybody of any age which is why it's essential to be informed of what to do in case you notice a breakout about to happen. Now that technology is more advanced than ever, it's easy to go online and search for the best immediate remedy. Some of the most popular go-to`s are blogs and Youtube videos. We often also rely on our favorite beauty influencers for their insights. Hence, these are the most-loved acne products by beauty gurus online:
Cerave Acne Foaming Cream Cleanser
Cerave's Acne Cleanser contains 4% Benzoyl Peroxide, hyaluronic acid, niacinamide, and essential ceramides. It's meant to be good for your skin, especially at night time when you have to thoroughly wash your face after a full day's worth of make-up, retouches, pollution, dirt, and other pollutants.
It will help get rid of excess oil and dirt while retaining your skin's moisture and soothing irritated skin. You can use this daily if you have really oily and acne-prone skin. However, if you're having a casual breakout especially when you're on your period, you can use it only during the days you have acne. Nonetheless, you can use this as maintaining smooth and healthy skin as well as preventing the build-up of dirt and oils.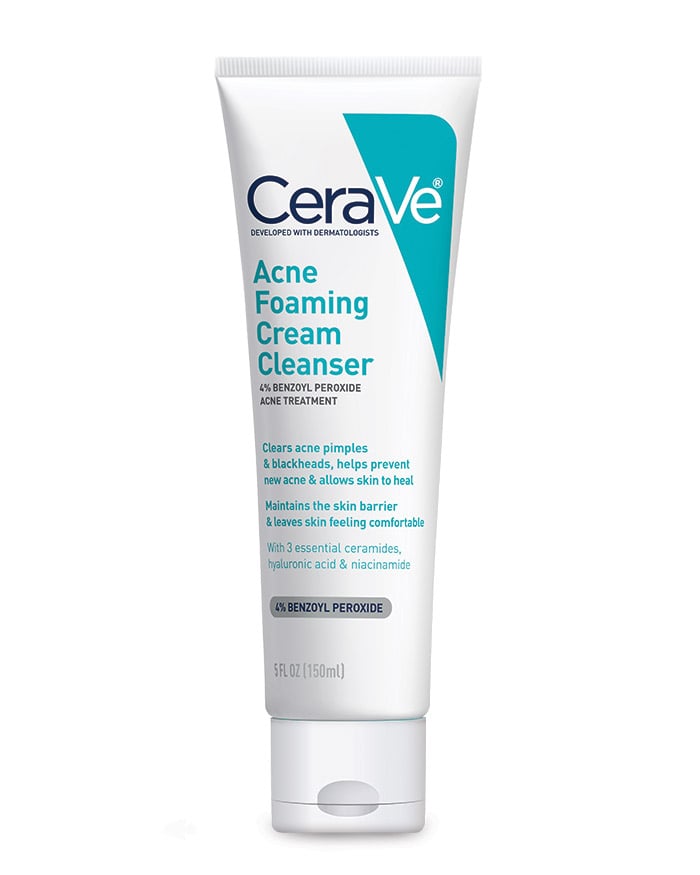 Cosrx Pimple Patch
Cosrx is a Korean brand that's mostly famous because of its skincare products for sensitive and acne-prone skin. One of their acne products is this Cosrx pimple patch which is a hydrocolloid patch that aims to suck out the pus at the end stage of your pimple.
It's excellent to use especially during that time of the month when you're breaking out. Don't pop your pimple and wait for it to dry out, then apply this pimple patch to avoid other pollutants from getting in there, and making it worse.
COSRX Acne Pimple Master Patch
Innisfree Super Volcanic Clay Mousse Mask
One of the many reasons why acne forms are because of sebum build-up, as well as other pollutants. Hence, it's necessary to detoxify the skin and clear any sebum and dead skin cells with a volcanic clay mask that will suck out all the dirt.
You may use this 1-2x a week or as necessary. After this, you can apply a moisturizer or face mask to soothe and hydrate your skin.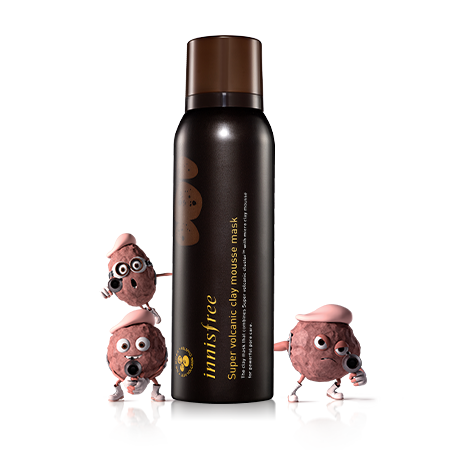 Super Volcanic Clay Mousse Mask 100ml
Banila Co`s Clean It Zero Pore Clarifying Foam Cleanser
Give your skin the much-needed cleansing, especially after a week full of crazy schedules where stress, pollution, and make-up can contribute to clogged pores and dull skin.
The Banila Co Clean It Zero Foam Cleanser will purify your skin, re-energize and keep your natural skin barriers intact making it supple and healthy-looking skin.
Clean it Zero Foam Cleanser Pore Clarifying
Cosrx Advanced Snail 96 Mucin Power Essence
The skin is the biggest organ and it needs a lot of vitamins to stay glowing and healthy. Besides oral intake and the vitamin D of the sun, it's also essential to provide the skin with much-needed multivitamins that will soften fine lines, prevent the signs of aging, and rejuvenate the skin.
This power essence will revitalize your skin, and make it look less dull. This is the skincare item you need if you want to re-energize your face and make it look glowing and healthy.
Advanced Snail 96 Mucin Power Essence
Some by Mi – AHA – BHA – PHA 30 Days Miracle Toner
This dermatologically-tested toner is amazing for sensitive and acne-prone skin because it contains ingredients that will sweep off dirt, sebum, and other pollutants, soothe skin, and minimize pores.
If you are currently healing from your acne, then this is one of the best toners you can get for your skin. It has AHA to exfoliate and reduce dark spots, BHA to lift dead skin cells and reveal plump and healthy skin, and PHA to hydrate and moisturize the skin.
AHA BHA PHA 30 Days Miracle Toner
Benton Tea Tree Cleansing Water
The Benton Tea Tree Cleansing Water is infused with 70% Tea Tree which will push out sebum and other dirt to fully dip dive into your pores, and eventually create a smoother and healthier complexion.
Tea Tree is one of the most famous ingredients for acne. This cleansing water is loved by many and contains ingredients helpful for those with sensitive and acne-prone skin. You can use this every morning and night.
Tea Tree Cleansing Water 200ml
MISSHA`s Super Aqua Cell Renewal Snail Cream
Give your skin the TLC It deserves proper moisturization through MISSHA's snail creme with 70% snail slime to help prevent wrinkles, restore damaged skin, regenerate, improve skin's suppleness, and ensure healthy-looking skin.
Super Aqua Cell Renewal Snail Cream
Cosrx Centella Blemish Cream
The Cosrx Centella product line is one of the most promising line-ups of acne products due to the gentle yet effective ingredients it contains. It has a creamy and non-oily texture that will feel soothing and soft to the skin.
This cream is most popular because it speeds up the healing process of your pimples without leaving any pimple scars or marks. It also ensures that your skin is well hydrated to avoid dull-looking skin. What`s really awesome about this is that it helps prevents the build-up of sebum, helping avoid breakouts. You can most definitely use this 1 week before your period starts to help with acne, especially if you get pimples at this time of the month.
Soothe Me Tea Tree 2-Step Sheet Mask
Do you need a quick skin-clearing product? This Soothe Me Tea Tree Mask includes two steps. The first one is to put the sheet mask, then after 15-20 minutes, remove the mask and apply the remaining essence. It has two key ingredients which are the tea tree and chamomile which are known to minimize redness, moisturize the skin, and relieve acne.
This is a great product to use to help revitalize your skin before applying make-up.
Soothe Me Tea Tree – Soothing & Clearing
The number of products you can get for your acne is a lot, and it would be a waste of money and time to try them all. This is why knowing which ingredients work for your skin is significant at the same time knowing the first-hand experiences of trusted beauty influencers and consumer matter.