For Spring and Summer 2022, we've seen an abundance of models showing off fun and interesting cut-out outfits. This style recently emerged with Versace, Alexander Mcqueen, and Christoper Kane putting a stylish twist to the cut-out design.
Back then, cut-out clothing was often seen as edgy and street-style. Nowadays, sophisticated day and night cut-out dresses can definitely make a statement. Check out these chic everyday looks you can do with lovely cut-out dresses:
CEO Chic
Nowadays, more and more women are taking the spotlight in the corporate world. Gone are the days when old school and dull office suits are the norms. With many start-ups innovating products and services, looking modern, fabulous, and ready to be the next big thing is the trend.
Check out this sexy cut-out cropped blazer and skirt. Instead of succumbing to old and boring corporate wear, try out this well-cut matching top and skirt that will show off the confident woman inside of you.
Fit n` Fab
We are all aware of the little black or white dress, and they're some of the most versatile and fashionable basics you ought to have in your wardrobe. Put a little twist to your tiny dress with a halter strap long-sleeves cut-out layer.
This form-hugging dress will balance out the short dress with the fully covered sleeves. This will show off your long legs, and accentuate your bust. This is great if you`re not too fond of showing your arms, or if it`s cold outside but you still want to wear a dress.
You can most definitely wear this as a casual dress with laidback accessories like a pair of white sneakers, beige loafers, or square-toe sandals. You can also amp up your outfit with a clutch or a pair of nude pumps.
Halter Strap with Long Sleeves BodyCon Dress
Textured Strappy Cut-Out Maxi Dress
Be hotter than the summer season with a textured cut-out maxi dress that is ideal for those who want to show some skin but the not tummy area. This sexy dress features a halter and spaghetti straps which were designed beautifully to simulate a bra and cover-up.
You can wear this to the beach, or you can also wear it as a date dress which can pass as a formal dress with a pair of heels and a fancy bag.
White Strapped and Fitted Cut-Out Maxi Dress
A Fan of Floral
Simple and sweet is what described this cut-out midi dress. It`s a cute day dress that would give you a sophisticated look. You can wear this with a pair of sneakers or for a feminine look, a pair of strappy sandals.
Even though it has a floral design, the design isn`t too overpowering giving it a relaxed and beautiful look. The floral lines almost make it look as if you have gorgeous art on your dress.
You can wear this with a sleek up-do hairstyle for a clean and polished look, and accessorize with minimal jewelry.
Strapless Beauty
This Solange Midi Dress gives off a dainty and feminine style which is amazing for a get-together with friends, and even a work dress. The little cut-offs on the sides can give your waist definition.
Despite the plain design, it is a classy and cute dress that you can both wear casually or formally.
You can wear it with fancy jewelry like a pearl or gold jewelry set. Then, you can layer it with a well-structured nude blazer to complement its light color. However, if you want a more laidback look, you can simply wear it with a pair of white slip-on canvas shoes, or white loafers.
Sexy and Sophisticated
Beat the heat with a refreshing blue cut-out mini dress that will showcase your bust and sexy figure. It features a built-in bra for a well-defined bust, and ruching stitches so that however you move, it will hide any belly rolls that might show, and at the same time helps you have a fantastic figure.
If you`re going to wear this for your beach vacation, you can get a see-through sky blue scarf, or kimono, and wear with a pair of strappy sandals.
With this dress, you`ll be sure to unleash the bold and beautiful in you!
AELIA
Sexy Cowl Neck Blue Mini Dress
Soft and Sweet
If you want to hop into the cut-out trend but still want to keep your outfit looking sweet, you can choose a white lace dress with a see-through skirt. This is perfect for your vacation, Sunday wear, or casual brunch.
This piece is suitable for almost any body type because it has a V-Neckline, both short and long skirts, and a cut-out design in the mid-riff for waist definition.
The dress already has a lot going in such as the backless and crisscross design, lace, and frill detailing which makes it a statement dress already. Hence, you can keep it simple with small jewelry like a dainty necklace with a small pendant.
White Lace Crisscross Backless Maxi Dress
Doll Dress
Be a doll wherever you go with a fit and flare dress that features puffy sleeves, midriff cut-out, and a cute A-line skirt. It also has a V-Neck design which frames your face and showcases your collarbone.
You can wear this with a pair of sneakers, square-toe shoes, or strappy sandals. For a casual look, you can accessorize with a backpack purse, bangles, and a donut hair tie. For a more formal look, a pair of heels and a clutch bag would do the trick!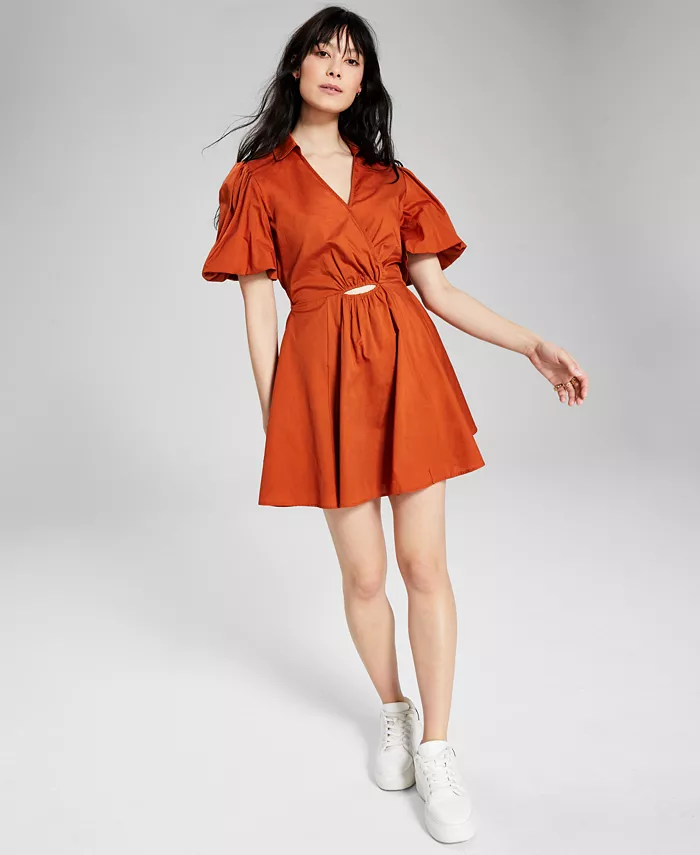 Women's Cutout Fit & Flare Dress
No matter what your body shape is, you can surely make a cut-out dress work for your body. The key point to remember is to show off through cut-outs the body parts you're most proud of such as your collarbones, rib cage, back, thighs, or stomach. These cut-out dresses provide a refreshing twist to your everyday looks.