As plus-size women, fashion is something that we want to use as a medium of expression. However, it's not always easy because even up until now, lovely clothing choices in both online and physical shops are not as extensive as those who are slim. This is why it always prompts us to be creative and to maximize everything for us to be fashionable.
Ready your closet because here are 3 style tips that will help you create more fashionable looks:
EMBRACE YOUR CURVES
Crop tops with high waist jeans or shorts actually look amazing for plus-size women because it balances the upper body with the lower body. It brings out the sexiness and beauty in you.
Though some women may be hesitant to wear crop tops because they don`t want to show their stomachs, appropriate styling and accessorizing will make you love wearing crop tops.
ACCESSORIZE STRATEGICALLY
Use Thin Belts
Thin belts can give your outfit a slightly unnoticeable waist cincher. There are also stylish belts that you can get that blend well with your top so that you can have a little accessory to bring life to a plain-colored outfit.
Skinny Horseshoe Buckle Belt
Pointed Shoes
Pointed shoes are very flattering for plus-size women because the pointed toes can give the illusion of longer and slimmer legs.
You can especially get triangular-like heels, with pointed toes for a classic look and will match short dresses.
Faux Patent Leather Slingback Heels
Statement Necklaces
Give your daily outfit something shiny and pretty to look at. It doesn`t have to be something very expensive but it just needs to have some texture and color.
The colorful statement necklace can also draw attention to one of the sexiest parts of your body which is your neck, and collarbones.
Mixed-Flower Charm Chain Necklace
INVEST IN QUALITY CLOTHES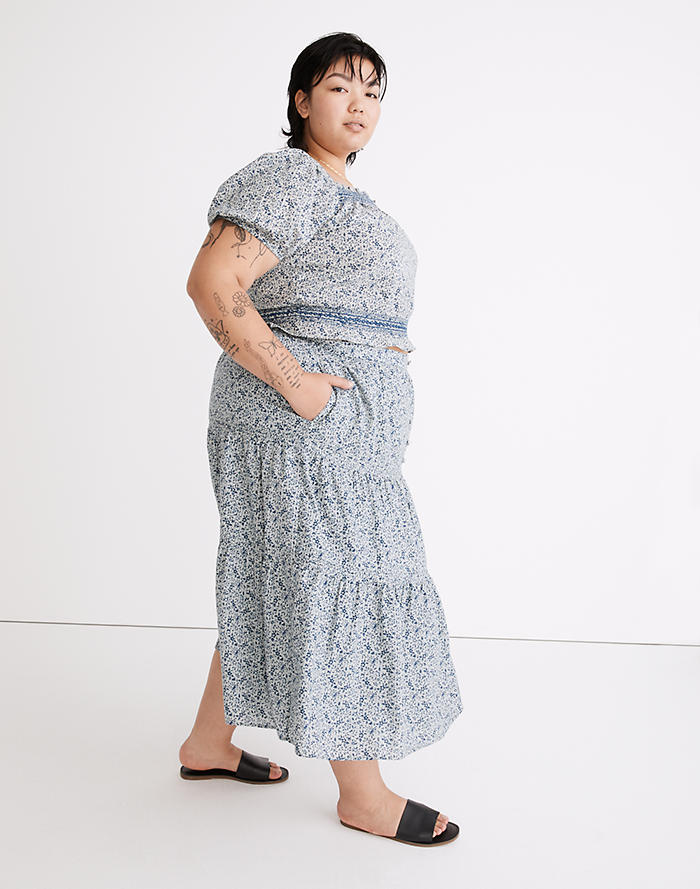 A lot of plus-size women`s clothes are baggy, out of shape and simply horrendous. Find a plus-size women`s clothing brand that will give justice to your curves. There are many high-quality and form-flattering clothes that will surely give you amazing looks. Here are the brands to look out for:
Madewell
This brand has some of the chicest and most professional-looking plus-size women's clothing. Ideal for the ambitious dreamer, you can find a lot of form-fitting tops that cinch your body in the right places.
Check out this white polo dress with a little cute cut-out in the middle. It cinches well in the middle and has an amazing cut in the sleeves.
Shirtdress With Cutout Detail
Their dresses are also tailor-fit to ensure that your best curves are highlighted. Their website is very size-inclusive and has amazing reviews from customers.
Plus-Size Cropped Dress with Button-Front Plus Button-Front Maxi Floral Skirt
Eloquii
What I really love about this brand is that they indicate the model`s vital statistics so that you can have a better idea of which size to get, and how it will fit on your body.
They have fashionable dresses specifically tailored for plus-size women. You can say that they are a go-to shop for plus-size wear.
Colorblocked Knitted Tank Dress
Asos
Edgy, sporty, cool, casual, and fun are what you can describe this brand. If your style fits the criteria, then Asos is the place to shop for plus-size clothes.
Besides the amazing style, you can definitely benefit from their reasonable prices compared to other shops.
River Island – Black Ruched Blazer for Plus-Size Women
Nordstrom Brands
Nordstrom is known to be an upscale shopping site which is why their products can be really pricey. However, what you can trust is the quality of the fabric and the fit of most plus-size clothing.
Check out this romper that looks like a dress. It features a sexy off-the-shoulder design with a form-flattering silhouette. This makes for a fantastic summer dinner date outfit!
Romantic Off the Shoulder Romper
CITY CHIC
Dressing up as a plus-size woman may pose some difficulties. However, with inclusive brands releasing form-flattering clothing, and appropriate accessorizing, you can achieve a gorgeous outfit every single day. Plan out your daily outfits in advance, experiment with your accessories, and be confident in slaying each look!