Every lady should have a high-quality leather jacket in her collection because it is a timeless investment piece. It is adaptable, fashionable, and lasts for many years. We'll go over some of the benefits of purchasing a premium leather jacket in this article.
Durability
A leather jacket of superior quality is robust and resistant to wear and tear. With the right maintenance, it can last for decades. As a result, you won't need to continually upgrade your jacket each season, which will ultimately save you money.
You might be curious as to why leather jackets are so strong. First and foremost, leather is a natural material that has been valued for its tenacity and resilience for thousands of years. Animal hide, often cowhide, which is thick and durable, is used to make leather coats. By incorporating oils and waxes into the leather during the tanning process, the material becomes even more durable and weather-resistant. Leather jackets are also sewn with strong thread that can survive a lot of wear and tear. These characteristics make a leather jacket an excellent investment because, with careful care, it may last for many years.
Timeless Design
A leather jacket is always in fashion. It's a timeless piece that works well with both formal and casual attire, making it a useful addition to any wardrobe. You may wear a high-quality leather jacket for years to come without fearing that it will go out of style because it is a timeless investment.
Because of its timeless appearance, a leather jacket is a terrific investment for your collection. It never goes out of style and can be worn with a variety of outfits, making it versatile and practical. It is very strong and, with careful maintenance, can survive for many years. A leather jacket gives any ensemble an edgy and fashionable touch, making it a need for those who care about fashion. A leather jacket is an investment that will pay off in the long run due to its classic appeal.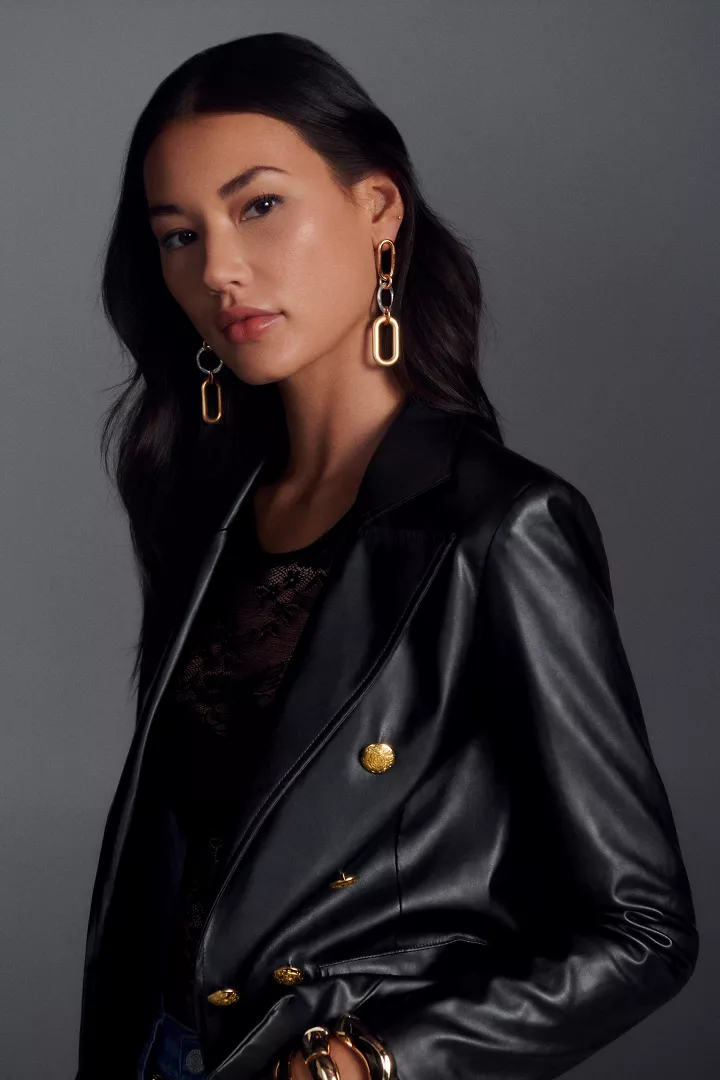 By Anthropologie Nico Faux Leather Blazer
Versatility
A leather jacket is adaptable and goes well with many different outfits. Dressing it up with a skirt or dress or dressing it down with jeans and a T-shirt are both options. An excellent leather jacket can be worn on a date, out with friends, or even to work.
GREY DISTRESSED LOOK FAUX LEATHER BOXY FIT BIKER JACKET
Leather Jackets are Great for Keeping You Warm
A leather jacket is not just fashionable, but also cozy. It will adapt to your body as you wear it and get more comfortable over time. The best materials are used to create high-quality leather jackets, making them feel supple and soft on your skin.
Instead of wearing bulky and hideous jackets to keep you warm, wearing a leather jacket is a stylish way to dress up during colder days.
Leather Jackets are a Classic Investment for Your Wardrobe
A well-made and high-quality leather jacket will bring you more savings because you can wear it for a long time, unlike some clothing items that not only depreciate in looks but also in value. There`s a great resale value for branded, high-quality, or well-crafted leather jackets.
You can also even consider this an heirloom that your child can have for future use. It is a clothing item that anyone can wear regardless of gender.
Do you remember how leather jackets were also a trend when you were younger? Even then, it was a cool piece to have as part of your outfit. It gives off an edgy and fun twist to your looks. Due to its unique texture, classic design, and craftsmanship, leather has become a timeless fabric that makes accessories and clothing a classic piece.
Investing in great quality leather jackets is both an investment for your style and money. It is an excellent investment because it is timeless, comfy, and durable. So, think about spending money on a high-quality leather jacket if you want to add a versatile and fashionable piece to your wardrobe that will last for years to come.