Some accessories and clothing pieces never really went away, and leather jackets and blazers are some. Having top quality leather jacket is an essential part of building your wardrobe to ensure you'll always be stylish. Whether you're borrowing your boyfriend's leather jacket or finding style wearing them, check out the leather jackets below that'll change your styling game!
1. Get Street-Style Inspiration from Hailey Bieber!
Hailey Bieber is one of my favorite fashion models, and even her street style is worth taking inspiration from! Her all-black outfit is perfect for all seasons with its versatility. You can get the same jacket as hers from Farfetch. It's an oversized jacket that's very fitting for a chill yet dressed-up look.
2. Don't Suffer from Thick Jackets when you can Sport a Comfortable Vintage Leather Jacket
Now that it's spring season, you wouldn't want to feel uncomfortable with thick leather jackets. You can still be stylish and comfy with a vintage leather jacket for that relaxed style.
3. Be Incredibly Stylish with a Belted Biker Jacket
If you ever want to look effortlessly chic, an oversized biker jacket will do the trick! Are you feeling lazy, especially when you need to run a quick errand? Whatever you're wearing, layer it with a belted jacket, and almost nobody would say you're dressed like a bum!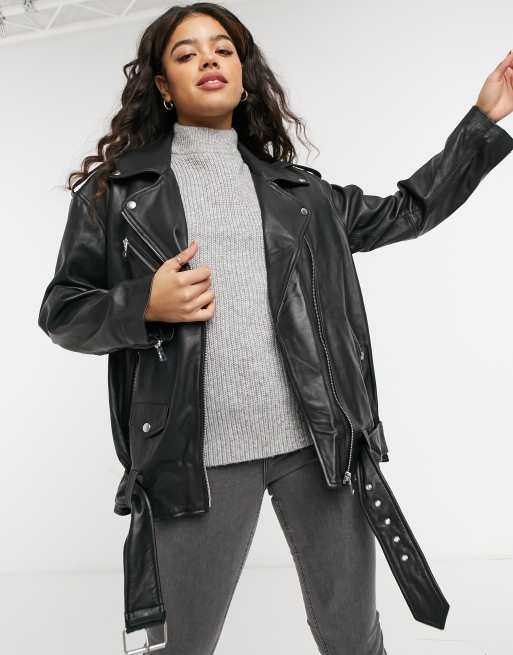 4. Rock a Vintage Look with a Distressed Brown Leather Biker Jacket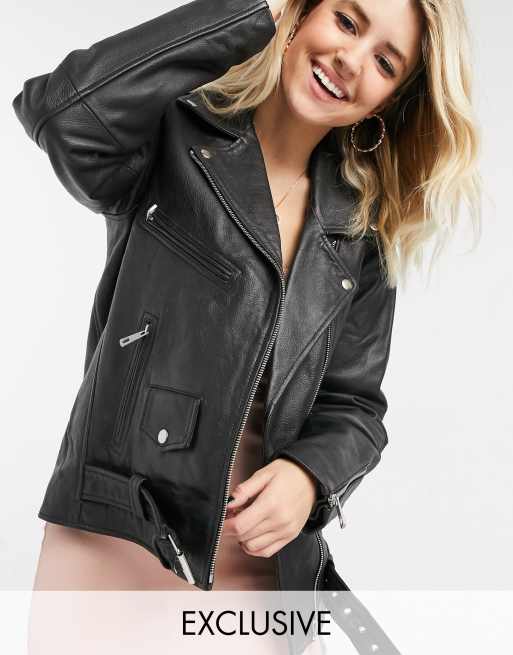 Leather jackets aren't all black. Give your daily outfits some personality with a distressed brown leather biker jacket that can complete your street-style look! A red crossbody bag and a pair of Dr Martens lace-up boots will make your outfit rockin'!
5. Never Leave for Work without your Leather Blazer
Have you noticed that many office clothes tend to be too formal, bland, and lacking in color? Well, you don't have to join the dull style that's common in most work clothes. Change your styling game with a faux leather blazer that comes in different colors. Not only does this make your office clothes more interesting, but it also keeps you feeling warm too!
Over-sized leather jackets hit different when you're wearing them with your feminine dresses. There's something unique with mixed accessories and clothing pieces that you put together according to your personality and preferences. When it comes to wearing manly blazers and jackets, don't be afraid to go all-out and be crazy with how you want to style and accessorize them!