We are lucky that there are many winter clothes that we can choose to enhance our styles and looks this season! One of those is the shirt jacket or shacket; as the name implies, it is merely a shirt and jacket in one—a clothing trend to make your closet even cozier. We will assure you that they will be able to flatter and elevate your outfit this winter.
Though men commonly dress it, some women love and enjoy wearing them for specific occasions! It will make you warmer and comfier on cold days and the best alternative for jean jackets. As its popularity arises, the needs go higher! That is why new trends of shackets emerge in the fashion scene right now. We will tackle and introduce the best shirt jackets for women that you should never miss out on today.
Rugged Look
Get your most relaxed look with this Eamon Shirt Jacket in camo print design! We know that camo prints are making their comeback in the fashion scene this fall and winter season, and its incorporation into shackets makes it more widespread. A sleeveless shirt and denim pants or ripped jeans will make your outfit look cool.
Cowboy Style
Is it me, or it's like a cowboy outfit? This Virginia Sherpa shirt jacket gives a rugged vibe that you'll surely love. A cowboy hat, denim shirt, and jeans are perfect for a casual look! Great for cool-weather coziness and model-off-duty style.
 Laid-back Look
Feel the comfort while wearing this soft woven fabric shacket. This plaid shirt jacket can be styled differently; you can look chic with a comfy jogger and sweater for cold days or a denim jean and a crop top for a casual get-up! A shacket designed to keep you warm all the time.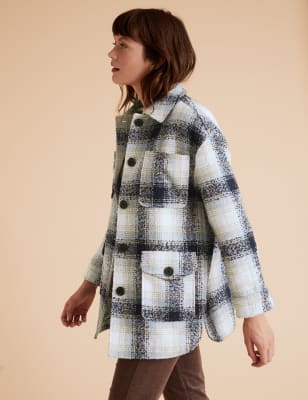 Care-Free Style
All time-trend and super cozy, this knit Snap-Button Shacket is an excellent addition to your wardrobe collection. A knit shacket is featuring flap chest pockets, curved hem, and snap-button front. Made perfect when the weather becomes colder, just put it as your overgarment and be styled with a jean or ripped denim for a different look and a crop top or white shirt.
Sexy and Open
Who will never love a soft fabric? You can have it open as a jacket or buttoned up as a shirt! You'll surely love its button cuffs and long-sleeves. If you want to hide some unwanted fats on your arm and shoulders, then this is right for you. A shacket that you can style in any weather and can be worn with a sexy dress, casual attire, and semi-formal outfits.
More than comfort, shackets are perfect for any season and weather! Good thing that you've seen how this shirt in a jacket or jacket in a shirt works, right? Now start styling with the shackets you have in your closet. Well, not every shackets are the same, so you'll have different options on how to wear them. Now, mesmerize everyone with your new-found fashion style.