Pocketed shirt is that one piece we all have in our closets. It's a basic piece quintessential wardrobe staple which can be styled in countless creative ways. Pocketed shirt works well for work or any other place where you want to appear more professional. For some it's just a boring basic, and when most of think about button-down shirt with pockets we think of plain, white versions of it. But, this tailored staple comes in so many different styles, colors, fabrics and lengths. The tailored shape of a button-down makes any outfit feel instantly elegant.
Not just for work, this piece can be styled in various ways, for a night out, brunch with friends, fancy date, going shopping, etc. These shirts can look good paired with almost anything, with a pencil skirt, skinny or mum jeans, leather leggings, and so on. Here are some ideas how to style a pocketed shirt for different occasions.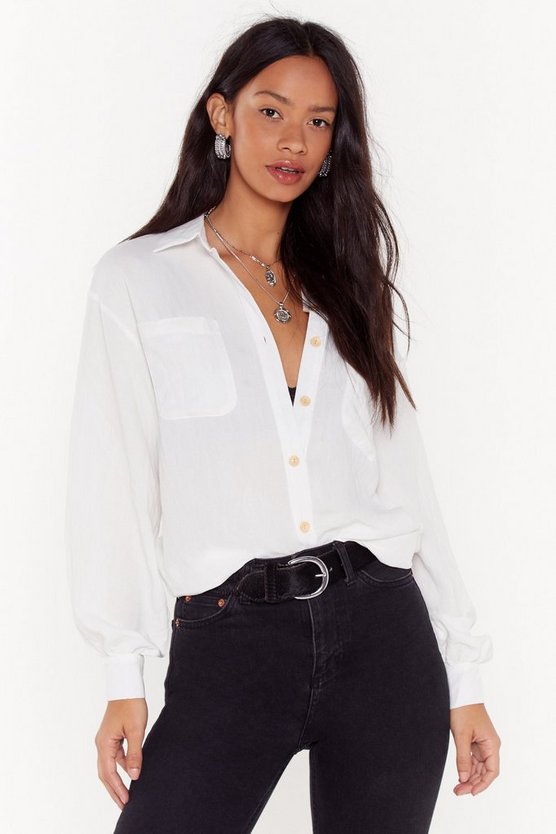 HOW TO STYLE IT FOR WORK
Pair it with a pair of trousers and a blazer and head into work. Another great way to style it for work is to tuck it into a pleated midi skirt. Metallic and velvet pleated skirts are a huge trend last couple of seasons. War this look with a pair of heeled boots to stay chic and comfortable. If you're not a huge fan of pleated skirts, pencil skirts are a nice choice too. And of course shirts always look good with suits. Paired with a plaid matching set, it will look modern and stylish.
FOR A DATE
For a date night you can pair it with a nice pair of trousers. Play around with the neckline. Pull the top up and open it around the shoulders to show a little bit more skin in that area. Or, you can wear a shirt underneath a blazer dress. This look is polished and playful in the same time.
FOR THE WEEKEND
Contrast a pocketed shirt with something trendy like cargo pants for a truly dynamic outfit. You can tuck it into jeans and put on your sneakers for a casual weekend look. Pair an oversize white pocketed shirt with black leggings and add some cool details like beret and chunky jewelry. Finally, go for the blue denim and pocketed shirt. Whether you like wearing mom jeans or skinny jeans, you can't fail with this combination. Add some personality with layered necklaces, bangles, and rings.