Highline Fashion launches "The Dress Lounge"; providing the only full service destination for girls and juniors special occasion dresses in the area.
Since the closing of Gotham in 2016, local residents have felt a void in boutique shopping destinations for special occasion and Bat Mitzvah dresses and have resorted to taking hour long trips in search of event dresses.
Tammi Siedlecki opened Highline Fashion; a chic apparel, accessory and gift boutique for girls, juniors and women in Millburn, New Jersey to serve this much needed niche and to provide a destination where mothers and daughters can shop together in one convenient location. Highline Fashion features well known brands like Vintage Havana, Z Supply, Terez, Veronica M, Tractr and Flying Monkey alongside International brands Sweet Girl Shop and Craftholic.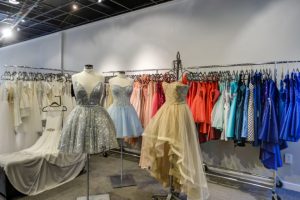 Seeing a need to fulfill the local special occasion dress needs and recognizing the following of Betty Reisman (aka Bat Mitzvah Betty) who joined the Highline Fashion team and comes with many years of experience in dress design and fitting, The Dress Lounge at Highline Fashion emerged, providing a destination where customers can have a fun and easy shopping experience.
The Dress Lounge features special occasion dresses for girls and juniors, semi to full customization from Jovani, Sweet Girl Shop, Zoe Ltd, David Charles, Elaina DuVale and more. You'll love the loft like dedicated area for dresses at Highline Fashion where you'll feel like a kid in a candy store surrounded by bright colors on one side, sparkly embellishments on another and rich fabrics every where you turn. The Dress Lounge recently integrated inventory from Dressed by Lori, a former Millburn destination boutique for women's special occasion dresses to round out their dressing capabilities.
"We are thrilled to now be able to outfit entire families of women for their every day fashion and special occasions," said Tammi. "Highline Fashion has come to be known for it's warm and friendly atmosphere and kind and experienced staff. It's so exciting for us to expand our product categories to meet the needs of the surrounding communities and to keep business local."
The Dress Lounge is open during store hours every day of the week. Appointments are suggested for consultations during as well as off store hours.