Trying out new nail colors, shapes and styles is a great way to spice up routine and brighten your day. Let's see what type of nails are popular in Spring 2022:
PASTEL NAILS
                          Source: whowhatwear.co.uk
Pastel colors are perfect for this Spring. If you want to feel romantic, choose colors that are more subdued, like pink or creamy beige. This is the best choice if you want neutral, but trendy nails. The great thing is that these colors are safe and they will go well with any outfit.
If, however, you like fun nails, you can choose brighter pastel colors, like orange or yellow. Such nails will instantly boost your mood. After all, these are the colors of the sun!
BLUE SHADES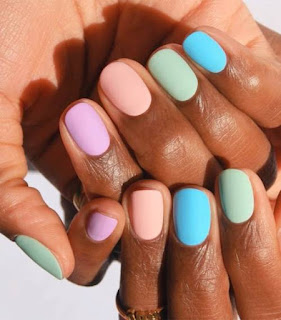 Source: IG @natalimyname
You know what is even better than pastel nails? Pastel blue nails! Shades of blue are huge for Spring this year! We had all kinds of greens in 2021, but now blues are stealing the spotlight!
Turquoise, navy, cyan, cobalt, midnight blue, sky blue, royal blue, aquamarine… It's so hard to choose just one shade. You could also mix and match these colors. And what about pairing blue hues with purple? Be bold and show your creative side.
RHINESTONES AND SPARKLES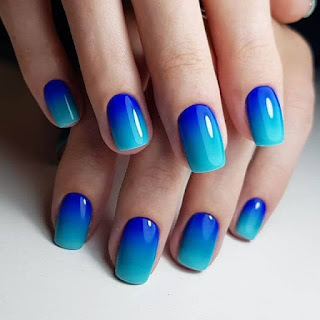 Source: IG @nail_unistella
Feeling glam? Try embellishing your nails with rhinestones and glitter. Let your nails sparkle like stars! We spotted rhinestones on hair, clothes and even faces on the runways for Spring 2022. Who is to say we can't add them on our nails too and give ourselves the glow that we deserve?
Using the rhinestone dotting pen, grab your chosen embellishments, place a dot of nail glue on the back of it and then place that on top of your nail polish. With such nails, you will not go unnoticed so if you want to stand out from a crowd this Spring, these are the nails for you.
  STILETTO NAILS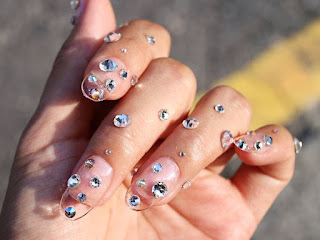 Source: fashionleech.com
We can have stilettos not just on our feet, but kinda on our nails too! These pointy and V-type shapes will look even better if you outline the pointed tips. You can use a bold color like black or dark blue. If you are using colorful nail polishes as an outline, make sure it matches the rest of the nail. With color blue being trendy this Spring, you can have a lighter shade of blue on your nail and using the darker one for your nail tips. Perfect match!
If you don't like the sharpy feel of stiletto nails, you can try coffin-shaped nails with neutral color on your nails and black V-shaped tips.
FLORAL PRINT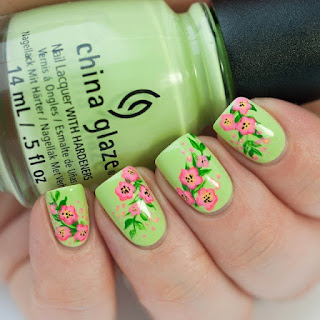 Source: IG @paulinaspassions
What is a Spring without flowers? If you like trying different designs and themes for your nails, you can choose this classic print and feel sweet. Green and soft pink will look beautiful together.
Color your nails in green and then use a small brush dipped in pink and white nail polish and start painting flowers and roses on your nail.
What are your favorite nail polish colors? What shape you like your nails to be? Do you like having rhinestones and different designs on your nails or you like more simple, neutral look? Nails can say a lot about you, express your authenticity in your own way!