A fashion secret that almost no one talks about, but everyone uses is: a good coat transforms any look.
Jeans jackets are a versatile and adaptable piece. Whatever look you have in your head, a denim jacket will work, whether it's a long silk dress or a pair of pants and a basic t-shirt.

Because it is a classic piece, you can find a model with several colors and prices, in addition to working in any season of the year. We are already used to light and dark wash jeans, but the colors of the season are the primary ones.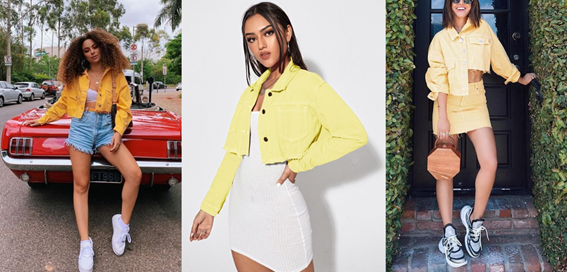 Blue, red and yellow denim jackets will be with everything and you can create amazing and colorful looks with them. Although the jackets give off a cool vibe, you can create a more tidy combination by betting on key pieces of the main look.
Remember that there are different models of jackets. There are tight ones, oversize ones, plain ones, ones with a lot of details, those in cropped format (which this type is really complicated to combine) and you just have to choose the best one for each production.
If you don't have a clear idea of looks, you can wear them with sundresses, overalls, midi skirts, wear them with leggings or jeans, and many more.

How to wear colored jackets
A lot of people may find it difficult to match colored jackets in the usual pieces, but you can match by wearing jeans of the same color at the bottom of the outfit, using neutral colors for the jacket to be the color point or even matching the colors.
The important thing is to feel good and comfortable in the chosen outfit.
If you want to get away from the basic jacket, it is interesting to customize with chains and patches or buy jackets with embroidery or some customization.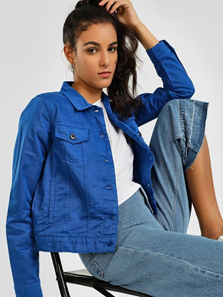 How to take care of the maintenance of the jacket
The jacket will already come with the care label in the wash, but it is always important to remember that you should not wash it with heavy products or leave the garment to soak to avoid fading. You should also wash the jacket on the wrong side to avoid stains and this way you also have a more effective cleaning.
Always use cold water and also never tumble dry to avoid damage. The best way to wash it is by hand and with cold water to prolong the life of the product, besides, of course, choosing the product with good quality to avoid future frustrations.
Jeans combine well with many other fabrics and it will be impossible for your jacket to sit still for a long time.