How to Wear a Skirt with Earrings
Most people would say that if you want to look more feminine, you should wear a skirt. Some people, however, would suggest that you should wear earrings to nail your lady look. But the good news is, you can always wear both earrings and a skirt simultaneously.
But remember that, like any other fashion item, you should consider some things before matching them. Yes, you are free to choose what item you would use but if you want to look your best as you celebrate womanhood, take note of these suggestions.
Floral And Drops
Since florals are not loud designs, it is fitting to pair them with your earrings with tiny drops. It is suitable for your bob haircut, and it can complement the flowery designs in your skirt.
You do not have to put much detail on your earlobes because these drops from your earrings are good already and serve their purpose.
Floral Print Lettuce-Edge Skirt
(Shop at www.forever21.com)
Thin Fall Down
If you opt to nail your short pencil skirt, these earrings with thin straight-down designs can give you additional elegance. This match can be your go-to, especially when you attend formal events and meet significant people from work. It can make a good impression if you meet strangers or a possible mate.
Moreover, these earrings are suitable for this overall flowery outfit because they can upgrade your fashion subtly. It will underscore your sophistication as nobody will ever intimidate you. And that can be your starting point if you build your fashion statement.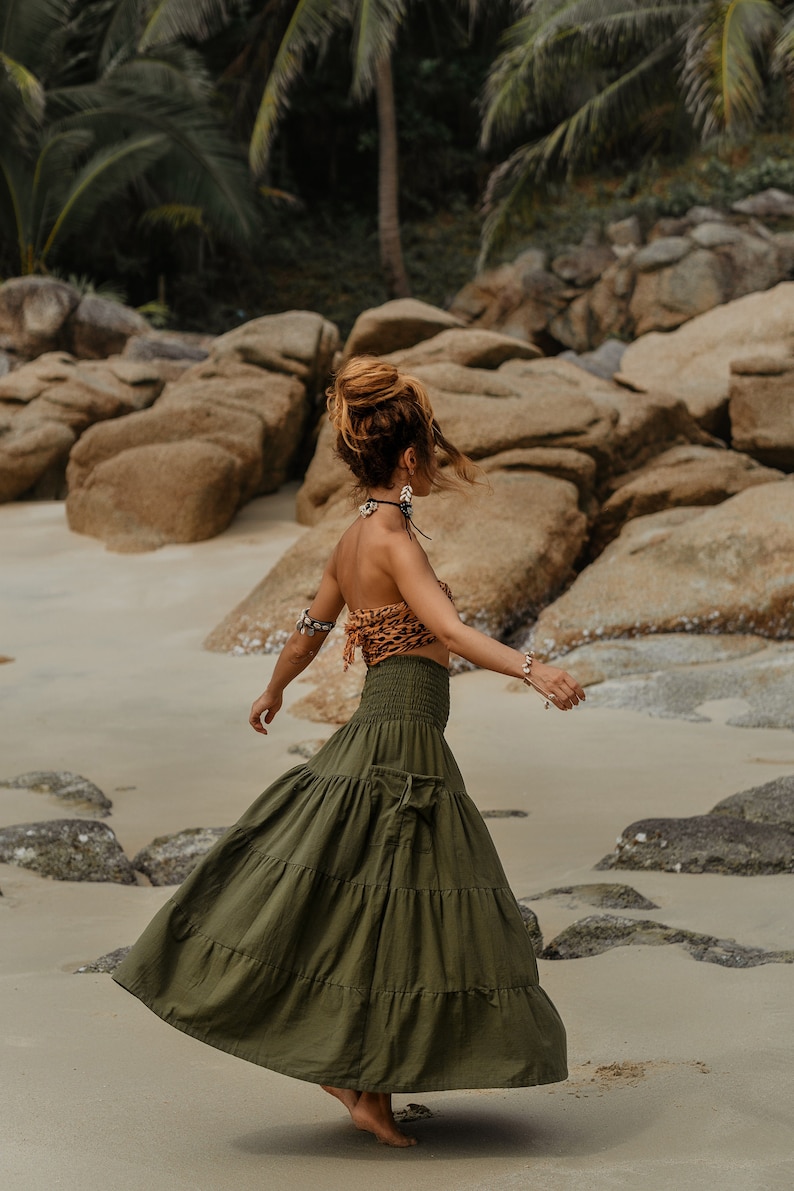 (Shop at www.etsy.com)
Long and Large
You can pair your long hipster skirt with large hoops to create a vibrant personality that is approachable and confident. If you want to play the role of a happy cowgirl lady, these matches are ideal for you.
Another point to note is that you can turn your hair into a bun to flaunt your fashionable hoops while you utilize your crop top to elevate your long skirt.
The Sweet Impression
If you feel like going for a sweet vibe, you can go for a pair of outfits with matching colors. Go for a miniskirt if you want to look a little cuter. Meanwhile, since your primary attire is straightforward, go for the simple hoops so you will not appear trying hard or even dull.
Hoops earrings can always be your go-to accessory to upgrade your style, especially if you want to keep it subtle.
(Shop at www.forever21.com)
Go Extra
Long skirts are not a typical choice when you want to flaunt your fashion sense, but for a different take, you can nail it with an extravagant pair of earrings that are large enough to upgrade your style.
These earrings are good, especially when you do not get your hair done extravagantly and if your face has lighter makeup. The accessories will always balance it.
Sometimes, people forget to consider the matches, but if you would always do the math, you can always be more than the sum of your parts when you match your fashion details effectively, such as your skirt and your earrings. In this way, you will appear more feminine.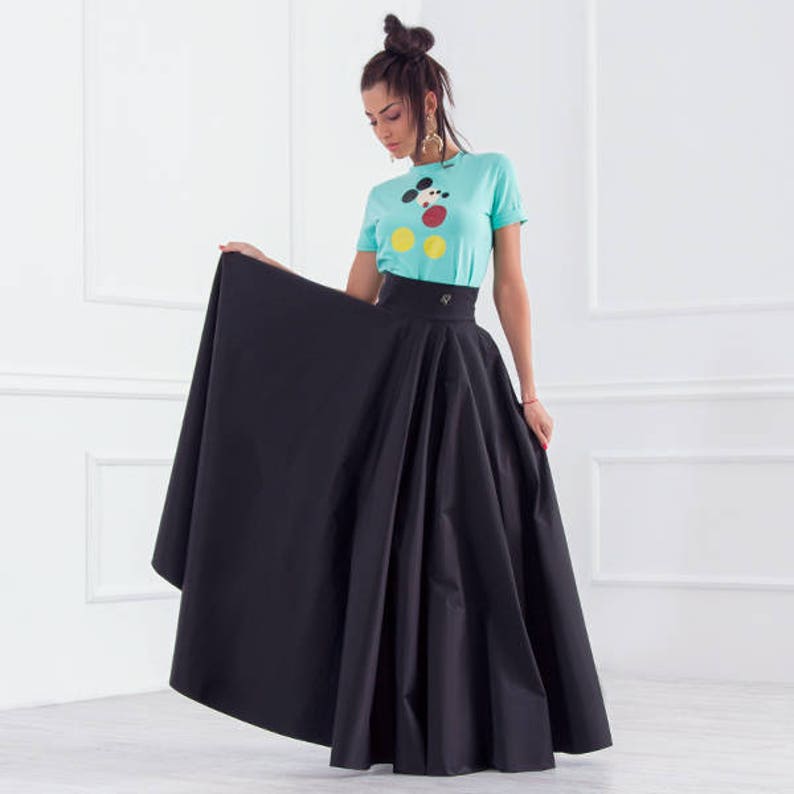 (Shop at www.etsy.com)
Wear Them In Elegance
If you're looking to pair a nice set of earrings with your skirt then go for a look that will make you elegant. More than your manner, your outfit should speak about elegance with how others look at you pleasantly. Look at you pleasantly in a way that you're not that seductive but curious and in awe of how you're able to manage your style. The style to look elegant is hard to achieve without the proper dresses and accessories. This is where the earrings come to place! If you can wear an earring that matches even the color of your skirt, the better. It gives a better complexion to your overall outfit. Of course, not just your earring, the rest of your outfits and accessories should match each other as well.
Stone linen look ruched side mini skirt
(shop at https://www.prettylittlething.us/)
Sexy Combination
Looking and feeling sexy is easy to achieve by having a perfect body, self-confidence, and an appropriate outfit such as a skirt. These are the combinations that you must have if you want to pull off this kind of style in any of your outfits. Of course, you must never forget to wear earrings. Having an earring as an accessory can give a better dimension to your face, more if you have fierce make-up to match it up.
Well, it shouldn't be an ordinary earring. You must be thorough in your outfit combinations to pull off any kind of style that you want!
Brown swirl printed rib midi skirt
(shop at https://www.prettylittlething.us/)
Roll Down That Slit
Become realistic in choosing the combination of skirt and your earrings to achieve a remarkable and pleasing style. You also must have the gist of what you want to look like to prepare the kind of dress you'll wear with it. Look at this midi skirt, it has a long slit, in floral print and cinching waistline design. Just by these features, you'll easily recognize that you can look sexy and dazzling with a perfect combination of tops and accessories.
You can copy the earrings in this picture with a pearl pendant. This type of earring and the print of this midi skirt makes you look close to nature. More so, what is more, it is the enticing long slit of the midi skirt. You should also invest in the design of your skirt to pull off any accessories that you want to wear with it.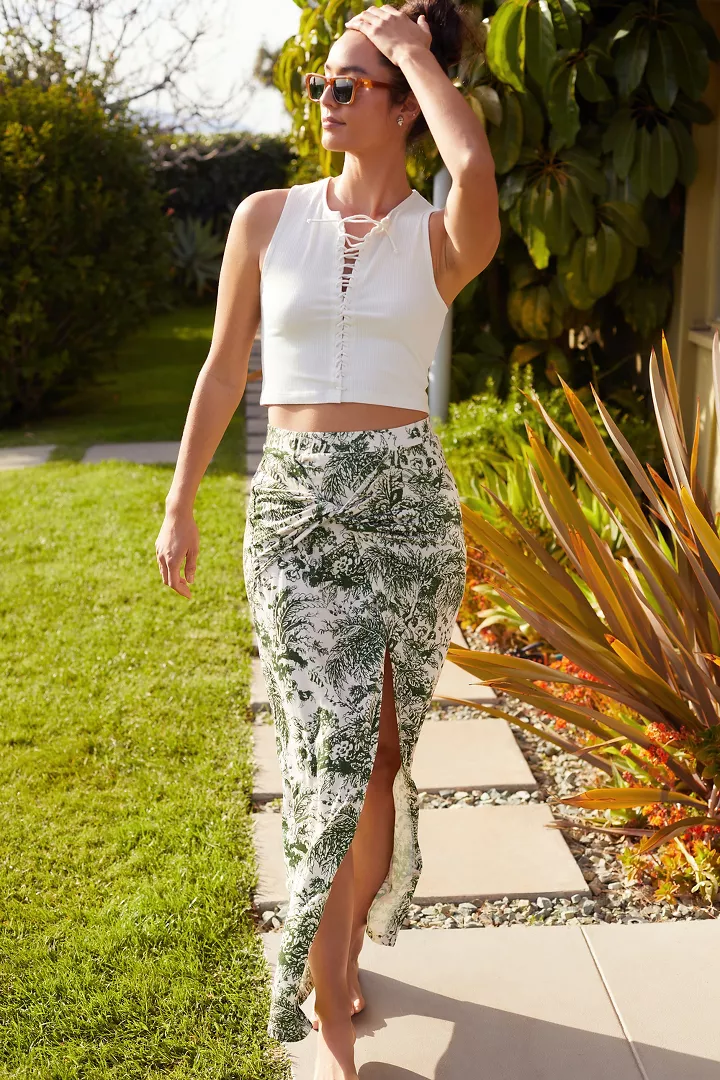 The bluebell island midi skirt
(shop at https://www.anthropologie.com/)
In the end:
It is always better to invest in searching and investigating for the right combination of skirt and earrings if you want these two accessories to become the foundation of your outfit. We hope that the ideas we share for you to wear these things will keep you up in loving and pursuing your fashion style.