Our home has been our heaven, especially in these pandemic times. We all have taken shelter within these 4 walls for the past year and a half. As a result, we have kind of gotten bored in these familiar surroundings. The human eyes need change and so does our mind. It's completely impractical as well as impossible to renovate the house every season. Although you can always redecorate it from time to time to get a fresh feel. This works for everyone, from homeowners to renters because all you are doing is just decorate! No building or demolishing is required.
So here are a few easy yet effective ways to bring that change!
1. Switch up the curtains:
A new set of curtains can change the look of a room in a jiffy. Whether it's the living room or your bedroom, having a new set of curtains never hurt. It's an investment, don't throw your old ones. Wash them and store them carefully for the next season.
Go for something unexpected. If you had heavy Curtains before, opt for sheer ones. If you had monochromatic ones earlier, choose some eccentric prints. The makeover is going to jazz up your room.
2. Bring nature in.
According to me and other home experts, a room is incomplete and lifeless without a plant. A plant is not only aesthetically pleasing but also good for health. Plants are the soul of a home.
However, I get it if you don't have a green thumb. You can always decorate with faux plants! These days you can get anything from a 'real' looking orchid to a fern, a fiddle leaf fig to an areca palm! Just bring them in!
3. Use wall stickers.
Bored of your wall paint? Very understandable. Toddlers scribbling all over? Very unavoidable. Renting and the owner doesn't allow painting? That sucks. Want a change but not in the budget for a repaint? That's really sad but very common.
The solution to all the above situations is wall stickers! Not only they are super easy to apply or remove, but they entirely change the look of the whole room in minutes! No hard paint job or leave from work is required, just choose the type of look you want to go for. Wipe your wall with a cloth and then stick them up!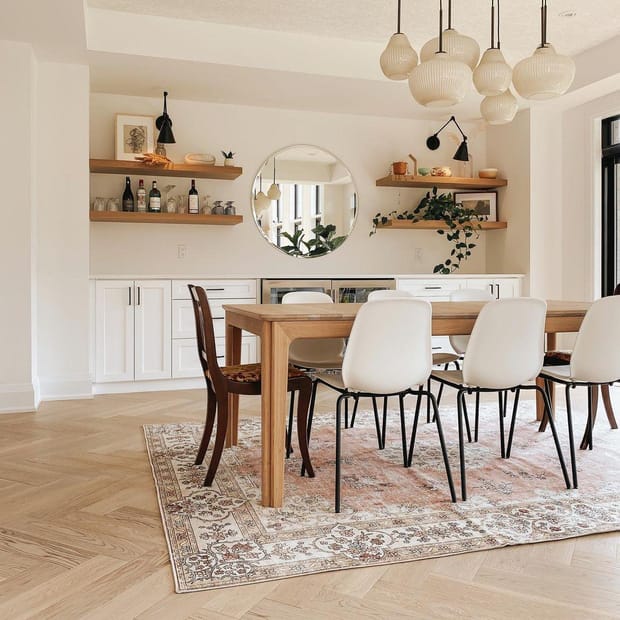 4. Add a new rug. A floor without any texture is lifeless. I just can't imagine a home without any rugs or carpets or runners! Also getting a new rug is the secret to a new look. You can layer one over another during fall and winter for a cozy look. Opt for a small, round one to be layered over a large rectangular piece.
Whereas for summers, you can swap the heavy woolen ones for a lighter rug in pastel shades for that cool feeling.
These are some small yet effective ways to turn your home into a sanctuary. Which one is your favorite?