Finding the ideal pair of shoes may make all the difference in obtaining a polished and professional look when it comes to business casual wear. We've put up a selection of ten shoes for women who wish to wear a smart yet relaxed look. These shoes will subtly upgrade your business casual lookbooks. Put your best foot forward and get ready!
Classic Black Pumps
Emmy Pointed-Toe Pumps – Black
Any business casual outfit should include a pair of classic black pumps. They seamlessly go with dresses, skirts, and pants, exuding class and versatility. Choose a heel height that is comfortable for you so you can walk confidently through your hectic workday.
Classic black pumps are a must-have for business casual attire due to their timeless elegance, versatility, professional appeal, neutral color palette, and comfort. It adds elegance to your look, complements a variety of outfits, conveys a professional image, and pairs well with a variety of colors to provide all-day comfort and support. Incorporating classic black pumps into your wardrobe can exude confidence and professionalism even in a business casual setting.
Nude Heeled Sandals
If you want to add a touch of femininity to your outfit or for the warmer months, nude-heeled sandals are a great alternative. These shoes lengthen your legs and look great with everything from flowy dresses to fitted slacks.
Loafers
BOTH X CHARLES & KEITH
Jules Platform Buckled Loafers – White
Put on a pair of loafers for a casual yet stylish look. These classic shoes are ideal for a business casual environment and come in different materials including leather or suede. For a stylish and elegant look, pair them with ankle-length jeans or skirts.
The white Charles and Keith loafers are ideal for business casual attire since they present a polished and tidy appearance, are versatile, serve as a neutral ground for matching with other colors, are comfortable, have a modern design, and give a sense of professionalism.
Pointed-Toe Flats
Jack Rogers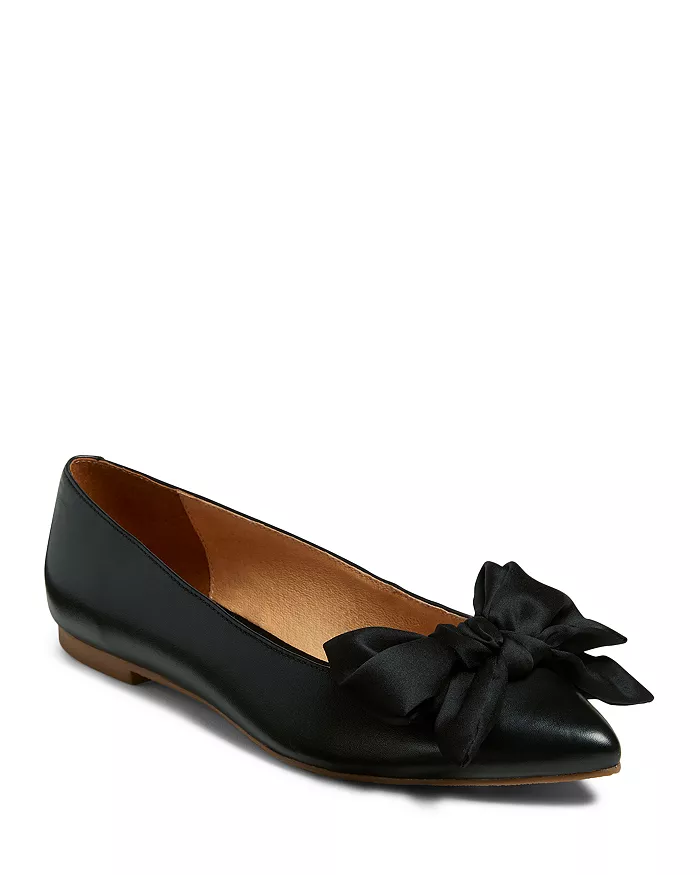 These are your go-to footwear choice when you need a break from heels but still want to look polished and professional. These shoes give your clothing a refined touch while also being comfortable for lengthy workplace days.
Block-Heeled Ankle Boots
Block-heeled ankle boots make it easy to go from the office to after-work activities. These chic and cozy boots can be worn with skirts, dresses, or pants to give your work casual outfit a bit of edge.
Oxford Shoes
Oxford shoes give your ensemble a dash of menswear-inspired refinement. To project assurance and flair, choose a pair of polished leather shoes. These shoes make a stylish and modern statement when worn with fitted pants or even a sophisticated pantsuit.
Slingback Pumps
Slingback Leather Mary Jane Pumps Double Strap Block Heel Office Shoes
The current take on the traditional pump is the slingback shoe. These sneakers combine fashion and security with a strap that encircles the rear of your ankle. For maximum mobility, go for a neutral hue like black, beige, or navy.
Wedge Sandals
Metallic Sculptural Slingback Wedges – Silver
Wedge sandals are the ideal combination of comfortable and fashionable footwear. They are perfect for a business casual outfit because they add height while providing stability. For a stylish and simple ensemble, pair them with wide-leg pants or a short skirt.
Chelsea Boots
Put on a pair of Chelsea boots for a hint of classic elegance. Any business casual outfit benefits from the smooth and polished touch these ankle boots, which are often made of leather, bring. They enhance your entire appearance whether worn with cropped pants, skirts, or dresses.
Suede ballerina Flats
CHRISTIAN LOUBOUTIN
Suede ballerina flats are a great option if you're looking for a shoe that combines comfort and style. They are appropriate for both professional and informal business settings thanks to the soft and opulent material, which adds a touch of elegance to your attire.
You won't ever have to choose between style and comfort again if you have these ten shoe alternatives in your business-casual shoe collection. Keep in mind to select footwear that not only goes well with your clothing but also offers you the support and comfort you require to face your daily with assurance. Put on stylish shoes that flawlessly mix style and professionalism as you begin your professional adventure.