A few years ago, I was aimlessly scrolling through Vogue's website when I came across an interesting story of fashion and function. The article featured a clothing company – I can't remember the name – which specialized in wearable and useful items. There was a jacket that doubled as a backpack, a T-shirt that could be used as a sleeping bag, and even a puffer jacket that supposedly transformed "seamlessly" into a tent.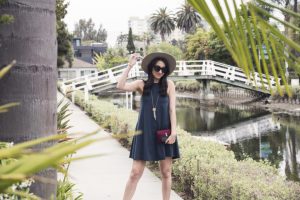 While it was an interesting concept, I ignored it because I thought it was impractical – and frankly, stupid. Who would actually want to wear a coat that can double as a tent? Doesn't it require lots of complex assembly? And wouldn't it be bulky?
All of these objections went out the door the minute I came across Origamei. Converting from a moisture-wicking dress to a fashionable clutch, Origamei employs the same concept as the Vogue-featured brand – without the confusing assembly or bulky material.
Origamei founder Angela Wang's patent-pending design was born around the idea of the woman on-the-go. Each dress is constructed with seams that make it easy to fold into a clutch that can hold your everyday essentials such as an ID, credit cards, phone and keys. The clutch can then unfold into a free-flowing dress available in three different colors and styles (one size fits most).
The entire concept revolves around female empowerment. The "mei" from the name is synonymous with "beauty," which directly refers to seeing and understanding the inner beauty in all women. Even more, Wang launched her new company by wearing one of her KIKU dresses for a 100-day charity campaign to raise money for the sexual assault awareness organization No Means No Worldwide.
Both this organization and The Uniform Project, where one woman wore the same black dress for one year to illustrate the important of sustainable fashion, directly correlates with and inspired Wang's message for Origamei.
After learning all of this, I paused to think about the instances where this would be convenient. The versatile dress could be the perfect solution when you're at the gym, in a rush to change out of your sweaty clothes. It could slip easily into any small, carry-on suitcase (and be used as a jewelry holder for traveling). You could even stow it in the glove compartment of your car just in case.
These ideas, along with the brand's message of female empowerment, won me over.