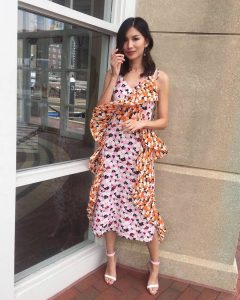 The new film "Crazy Rich Asians" — based on the Kevin Kwan book of the same name — has been generating a lot of buzz for a number of reasons: It's supposed to be really, really good; it's chock-full of good-looking, up-and-coming talent; and it's breaking important ground when it comes to Asian representation in the entertainment industry. It's also, as Fashionista's own Tyler McCall noted on Tuesday morning, shining a light on the need for better Asian visibility in fashion. And during the press tour, the film's stars seem to be taking that on as a personal mission.
On Monday, during a promotional event for the film in Boston, actress Gemma Chan wore a floral dress by Kenzo, which was lovely in all its ruffled, pink-and-orange glory. Styled by Rebecca Corbin Murray, the look was accented with earrings by designer Delfina Delettrez and topped (or bottomed, if you want to be literal about it) off with Christian Louboutin heels. It would have been an all-around delightful ensemble no matter what, but it was made far more impactful when Chan shared some of her own thoughts about it on social media.
The actress took to Instagram to shine a light on the French house's Asian heritage (its namesake and founder, Kenzo Takada, is Japanese) and current design leadership, Humberto Leon and Carol Lim. She posted a full photo of the look (shown above), and then took the opportunity to do a little fashion educating: "French luxury house Kenzo was founded by Japanese designer Kenzo Takada in 1970. Since 2011, it has been designed by two wonderfully creative visionaries @humberto and @carollim who created this beautiful dress," she wrote in the caption.