Jessica Simpson built a billion-dollar fashion empire based on her love of accessories. And when she goes on business trips, she makes sure to pack pieces that show off her trendy sense of style, which includes a epic collection of high-heeled platforms.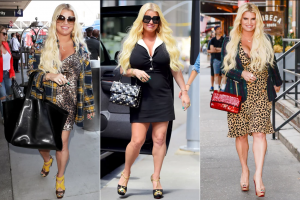 The 38-year-old singer and fashion mogul is currently having a busy week of meetings in New York City, and she's putting her colorful wardrobe on display. There's no print she's left behind, from plaid to floral to leopard.
"I always love coming to meetings in NY because I get to put together looks and play dress-up," Simpson shared on Instagram.
She kicked off her N.Y.C. trip wearing a leopard dress under a yellow and blue plaid shirt. She paired the look with black-and-yellow heels and an oversize black handbag. By Tuesday, she was already dressing like a true New Yorker, with an all-black ensemble consisting of a black collared mini dress, platform sandals and a black quilted bag. But later in the day, she was back to one of her favorite prints: leopard. The star stepped out in a different leopard-print dress teamed with a green, blue and red plaid blazer, nude heels and a red Chanel bag.
And her looks only got brighter from there. She sported a floral dress and a purple blazer on Wednesday, along with tan thigh-high boots and a snake-print handbag. And for a low-key date night with husband Eric Johnson she changed into a bright-colored silk jacket, a graphic t-shirt, flare jeans and a leopard-print bag.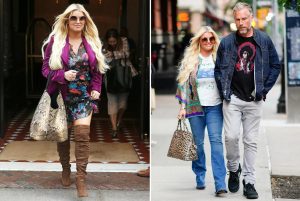 True to form, Simpson also paired her looks with lots of accessories, like oversize sunglasses, large hoop earrings and a massive diamond ring (in place of her ruby engagement ring and band), which a source close to the star says is one of the pieces in her rotation.
"It's not a new ring. She still wears her engagement ring and her wedding ring. She wears them all," the insider adds. "Jessica loves accessories and she loves jewelry. She likes to switch it up."
But her fashion parade isn't the only reason she's in New York City. The singer was in town to work on her upcoming cosmetics line, which she recently told PEOPLE about at BeautyCon in Los Angeles.
"I'm very excited, because the JS Collection is now going into beauty and it's something that we haven't done before, but it's a major passion of mine," she shared, "I'm from Texas, so I definitely have always had the contour and the big hair."
To kick off her venture into cosmetics, Simpson is starting with a brush collection, which she feels are the most important aspect of any beauty line.
"We're starting out with brushes — they're amazing," she shared. "We've been working on them for a while, and they don't shed. Brushes are the core of the beauty brand, like our shoes were for the clothing collection.