The Best Loafers to Buy This Autumn, According to A Vogue Editor
As the leaves begin to change color and the temperatures drop, updating your wardrobe for autumn is an absolute necessity. But what should you get? Well, we couldn't have picked a better icon of timeless style for this season than loafers. They're comfortable and can instantly give an outfit an elegant touch, making them the perfect addition to the current trends. To help you make an informed decision, we've called in a Vogue editor to knowledgeably guide you through this comprehensive loafer's guide. We'll explore the sophistication they bring to any fashion ensemble for the upcoming season and reveal their top picks. So, belt up your coat and prepare for autumn fashion!
Timeless Elegance: The Beauty of Loafers
Loafers possess an inherent charm that effortlessly complements any outfit. They offer a grounding touch to even the most feminine ensembles, whether adorned or minimalistic. Their sleek and timeless appeal is invaluable when trying to achieve a classic yet modern look for autumn. Whether you choose a classic penny style or one with detailed stitching, loafers can easily become the focal point of your wardrobe.
The 5 Best Loafers for this Autumn 2023
We connected with fellow loafer enthusiasts to gather the best options, including stylists and designers. Below, you'll discover a collection catering to all tastes, from classic styles that are easy on the wallet to luxurious heeled choices and even bold patent-leather pairs that spark conversations. The shoes add polish to an otherwise relaxed, rush-out-of-the-door outfit:
#1: Cos Chunky Leather Penny Loafers
https://www.cos.com/en/women/accessories/shoes/product.chunky-leather-penny-loafers-black.1195863001.html
Introducing the "Cos Chunky Leather Penny Loafers," a standout choice that perfectly encapsulates the contemporary twist on classic loafers. These loafers blend timeless sophistication with a chunky silhouette, aligning seamlessly with the evolving autumn trends. Their refined yet bold design exemplifies the versatility of this season's loafer choices, making them a must-have addition to any fashion-forward wardrobe.
#2: The Row Crinkled Gloss-Leather Loafers
https://www.net-a-porter.com/en-gb/shop/product/the-row/shoes/loafers/eel-crinkled-glossed-leather-loafers/42247633208888453
Take your autumn outfit to the next level with "The Row Crinkled Gloss-Leather Loafers." Delicately crafted with minimal design, these loafers exude an air of effortless luxury and elegance. The crinkled gloss leather adds an intriguing texture and distinction, instantly making them a timeless statement piece for your wardrobe. Let them play into the aesthetics of the season, creating an impression unlike any other before. These are the loafers that have revolutionized contemporary fashion; make them yours to experience true perfection in both the heady realms of comfort and chic.
#3: Loeffler Randall Sage leather platform loafers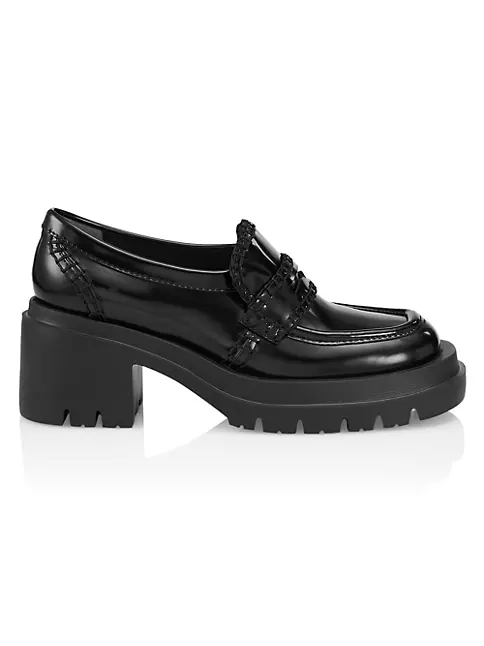 https://www.saksfifthavenue.com/product/loeffler-randall-sage-leather-platform-loafers-0400017965059.html
Introducing the "Loeffler Randall Sage Leather Platform Loafers," the epitome of effortless style. Classic leather blends with a modern platform twist, ensuring your look is always of the moment. With a bold, contemporary edge, the perfect balance of comfort and chic is found. These elegant loafers capture the essence of autumn fashion trends on the pulse. For spectators or the distinguished, they bring an easy statement to any ensemble. Invoke your modern style sensibilities by making these autumn wardrobe essentials a part of your style story.
#4: J. Crew Winona Penny Loafers
https://www.jcrew.com/us/pdp/womens/categories/shoes/oxfords-and-loafers/winona-penny-loafers-in-spazzolato-leather/BA190
The J. Crew Winona Penny loafer is an iconic component of a stylish autumn outfit. As an embodiment of timeless charm that stands alongside the trends, its intricate penny detailing and versatile shape cue fashion aficionados to ambitious style goals. An aesthetic that intermingles with a sophisticated feel or the laidback vibe of the season, no matter the inclination of your fashion appetite, these loafers are an essential choice. Let them authentically communicate autumn's essence in the realm of style as you strut in flawless fashion.
#5: MIU MIU Patent Leather Loafers
https://www.mytheresa.com/gb/en/women/miu-miu-patent-leather-loafers-black-p00825432
Last but not least, the Miu Miu Patent Leather Loafers are a must-have for any fashionista. These glossy loafers rest atop an adjustable buckle strap, ensuring both style and comfort with every step. The patent leather gives them an extra touch of luxury, elevating any autumn look from ordinary to extraordinary! Slip into these statement pieces as you embrace stylish fall fashion. With these Miu Miu Patent Leather loafers, you can take your autumn style to the next level. Whether you go for a classic look or something more daringly modern, they will have you feeling empowered and looking fashionable.
After all, the wonderful thing about Autumn fashion is that it's a time to show off your creativity and make unique statements with your wardrobe. The right pair of loafers can bring you one step closer to making a distinguished impression this season. So go ahead, express yourself with the key pieces of autumn style, and find your perfect loafer!