At face value, Western North Carolina "fashion" could be summed up as hiking boots and fleece jackets. After all, this is a region of weekend warriors, entrepreneurs, artists and variations on those themes. Clothes are clothes are clothes, right? But, on closer examination, you'll find local designers challenging the area's casual-meets-utilitarian ethos. Mothers are creating delicate tops with salmon scalloping, artists are recycling flower petals to dye dresses, and longtime West Ashevilleans are importing French lace for sexy intimates.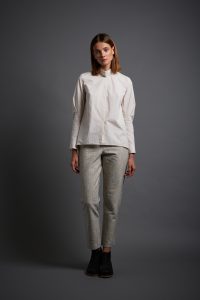 Rite of Passage
Textiles aren't dead. At least, that's the philosophy driving Rite of Passage.
"Rite of Passage is a collection built to symbolize the elegance and sophistication of American-made textiles and the meaningful role clothing holds in our individual archive," says maker Libby O'Bryan. "The intimate relationship our bodies have with the textiles that adorn us empower the garments we wear."
O'Bryan and co-creator Giovanni Daina Palermo work with parent company Western Carolina Sewing Co. (aka Sew Co.), a full-service manufacturer housed in a 72,000-square-foot frozen-vegetable packaging plant in Hendersonville. All fabrics are sourced from The Oriole Mill, a small-scale textile producer based in the same plant. By sharing a roof, Oriole and Sew Co. create a closed circuit.
Similarly practical, Rite of Passage features cool colors and simple, serviceable designs. The company's debut collection is an "intuitive expression of garments" made for the everyday — "a versatile uniform that takes us from the office to dinner or to our child's play date," says Palermo. The fall 2018 collection will launch with a special event in Hendersonville, followed by shows in New York City and San Francisco. riteofpassageclothing.com
The Charles Josef Co.
Charles Josef always welcomes travel, whether to Simpsonville, S.C., or Sirmione, Italy. "But one thing that makes a trip easier is having clothes that you can throw on without having to put too much thought into it," says Josef, an Asheville designer best known for his women's bridal designs.
The Retreat Collection for Men gives the modern traveling dude just that. The brightly colored, Seussian line mixes formal and casual wear with under-the-sea motifs. A sharp blazer, for instance, features a lime green textile patterned with pink starfish. Perfect for a summer vacation, Josef's swimwear incorporates similar prints: starfish, clownfish, fish scales.
"Last year in Paris, when my photographer nearly got arrested for putting a model in a merman tail in one of the fountains at the Place de la Concorde, I fell in love with everything merman and started sketching textiles that related to the merman theme," says Josef. For 2019, ocean life will move ashore, and the collection will feature new prints inspired by both land and sea. charlesjosef.com
Looking Glass Clothing Co.
Form follows function in this apparel line designed by mothers for daughters. The brainchild of Jen Nicks and Leigh Ann Conner, Looking Glass Clothing Co. creates supersoft knits that are low on fuss and big on fashion.
"Being moms to four little girls, we know that little girls have strong opinions about the things that they wear, and sometimes practicality doesn't always win," says Conner. "We believe that clothing can be practical as well as pretty."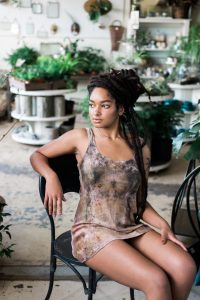 The result is whimsical (lots of butterflies, birds and florals) and functional. The Bee Charmer Scallop Dress, for instance, features a bright yellow print trimmed with salmon scalloping. Though perfect for summer, a pair of Morning Dew Ruffle Leggings extends the garment's shelf life into early fall. For now, both pieces are offered in sizes 2-8, but there is talk of expanding to include infant and 10-plus sizes.
SOMOS by CocoNuco
Local designer CocoNuco believes in slow fashion. To create garments in her latest collection of intimates, AMANTE, CocoNuco first collects floral and food scraps, healing herbs and minerals from Flora in West Asheville and Lady Luck Flower Farm in Leicester. Fabrics are then soaked in small batches and later imbued with elements of herbalism, chromotherapy and aromatherapy.
Each piece is thought of as an amulet and should make the wearer feel playful, spontaneous and confident. "A lot of what I do is also intended to create a special sensation," says CocoNuco. "I want anyone who throws on one of my garments to think, 'Damn, I feel so good.'"
Consumers also feel good knowing their intimates — defined loosely as "something personal, tender closeness and maybe even special armor" — were manufactured using a zero-waste process.
"I started making botanical pigments when I realized how harmful the chemical process of creating color is to the environment and anyone working in that field," says CocoNuco. "Now I'm using ingredients from the earth to make unique color blends." somosbycoconuco.com
Wendy Newman Designs
Asheville is reflected in the fabric of Wendy Newman's garments, quite literally. In 2015, the former Miss Florida began creating fine art mandalas using photographs of downtown icons — the Omni Grove Park Inn, Biltmore Forest Golf and Country Club, Biltmore Estate. Encouraged by positive feedback, she transferred the images to dresses, scarves, leggings, kimonos and her latest line of colorful umbrellas.
"Most of my designs are inspired by the architecture all around me, whether it is the Jackson Building, a bottle of fine Napa pinot noir or a historic church in Charleston," says Newman. "I love enriching and illuminating the patterns and colors that affect me so deeply." wendynewmandesigns.com
Hazel Twenty
Fashion never stops moving. That is especially the case for Lexi DiYeso, owner and founder of Hazel Twenty, a mobile boutique operated from a repurposed FedEx truck.
"It's a fresh take on retail that is innovative," DiYeso says when asked about her on-the-go business model. "And I felt like having a mobile boutique would be a great way to test the market."
The market proved inviting. After more than four years spent navigating the downtown landscape, Hazel Twenty has moved to a permanent location on Patton Avenue, which means fashionistas can peruse an even wider variety of garments.
Of her cultivation philosophy, DiYeso says she chooses "classic, wearable looks that are not overly trendy." By doing so, the customer base is inclusive of ages, 15-55. "I want clothes that moms can share with their daughters and vice versa," says DiYeso. hazeltwenty.com
On The Inside Lingerie
Underwire is the worst. It's a universal truth that guided Elise Olson to her life's passion: lingerie.
"The idea behind my brand, first and foremost, is to make lingerie that is comfortable and makes you feel good. And if you feel good, you feel empowered and sexy," says Olson, owner of On The Inside Lingerie. A self-described "West Asheville girl," Olson opened a brick-and-mortar shop on Haywood Road last October after two years working out of studios and selling in boutiques.