When we look back on what we wore in the 2010s, the midi will likely stand out as the defining silhouette of the era. Of course, the hemline that returned to the catwalks in 2013 was nothing new – the mid-calf style stretches back as far as the late 1920s, and was an essential component of the 60s woman's wardrobe.
The midi emerged in response to the miniskirt that became popular in the early 60s, and went on to spark what Women's Wear Daily (WWD) dubbed a "hemline war". Designers, department stores and fashion magazines all clamoured to promote the midi as an alternative to the mini, but women weren't interested, with some even protesting outside stores in the US. By 1970, women's groups were condemning the midi as anti-feminist, outraged that fashion magazines – particularly WWD, which was edited by a man – were trying to force this new demure style on them.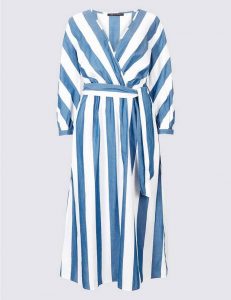 Now, however, the midi has been widely embraced by women of all ages, shapes and sizes. And while those late 60s midis were rather frumpy and unforgiving, our definition of 'midi' has expanded to include far more flattering cuts.
But not all midis are created equal. Shop around and you'll find a 'midi' in one store that falls a couple of inches lower than that by another brand.
Unless you're very tall and slim, you'll want to find a length that sits just above or below your mid-calf, which will make legs appear longer and slimmer – if it hits you right at the widest part of your calves, it can make you look stumpy.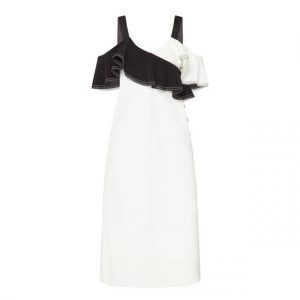 If you're curvy or pear shaped, opt for a dress with a defined waist, or create a silhouette yourself by adding a belt to accentuate your shape. You can't beat a wrap dress for this – it skims over the hips and ties at the waist, emphasising the slimmest part of the torso.
Unlike the mini, which can prove too skimpy, or the maxi, which can overwhelm the figure and veer too boho, the midi can be worn anywhere, anytime. Look to Victoria Beckham on how to style a midi for the office with smart courts, or dress yours down with flat sandals and a straw bag for a laidback look that will work as well on a stroll around town as on the beach.
Meghan Markle's nude heels may not be for everyone, but they help to elongate the silhouette. In sunshine yellow Brandon Maxwell, her look illustrates how wearing one colour head-to-toe can have a leg-lengthening effect. Block colours are especially good for shorter ladies – where prints can swamp your frame, a solid hue is clean and streamlined.
If you do fancy a print, go for a dress with a slit in the skirt, which will draw the eye up and make your silhouette seem longer.