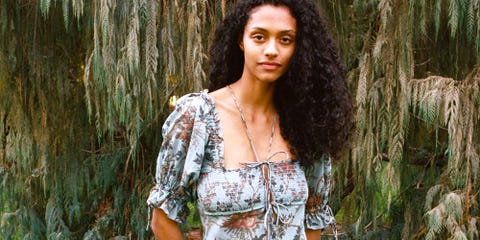 My love of summer dresses knows no bounds. My closet boasts an embarrassing number of swishy minis, printed wraps, and bohemian maxis that I clumsily wear with tights during the winter because my fragile ego doesn't know what a seasonally appropriate outfit means. Nothing makes me sartorially happier than a dress associated with The Virgin Suicides, minus the morbidity.
The Los-Angeles-based brand Dôen evokes all my aesthetic goals. Founded in 2015, the design collective creates lust-worthy clothes of vintage florals in fabrics that are made for airily walking through tall grass. They even produce children's clothes for the type of mom that gets photographed in front of weeping willow trees and along the Pacific Coast Highway, the emblem of a modern fertility goddess. It's Instagram bait comprised of peak California wanderlust, but you can't even be mad at it because the clothes are so good.
When the above dress was released as part of their Summer 18 collection in May, I was sold. Kind of. I don't know why I didn't immediately buy what is decidedly my dream dress, but I haven't stopped thinking about it since. Five months later and I'm finally ready. That's how you know the love is real, right? When it endures with time? Well it's been long enough, and I'm finally doing it. Sure, maybe the real reason I'm finally caving is because the dress is on sale, but that's neither here nor there. Grainy, magic hour grid post, here I come.