When September comes along I crave some structure in my life, because it's the only way to put a positive spin on the brutal fact that summer is over. Being slightly beyond the new pencil case years, I look for something else that will bring me the same upbeat, purposeful vibe I once got from a shiny new set of highlighters.
This is where I swap out my let-it-all-hang-out kaftan for more structured pieces. Exactly like back-to-school shopping for stationery, it is surprisingly effective as a distraction when you consider how literal-minded it is.
A blazer or a boot is the traditional first base here. But the empowering glow of being suited and booted for autumn manoeuvres backfires if you end up sweltering and uncomfortable, having jumped the gun into sturdy clothing too early. This plays out around this time every year, when the month-long catwalk season begins. New York in September is almost always too hot for a blazer or a boot, but try telling that to a cohort of women who just maxed out their credit cards on early deliveries of this season's hottest designer pieces and are now determined to get their money's worth of fashion points on the front row. An elite few pull it off, gliding along in cashmere like apparitions from the future. But I know that if I ever tried it I would be one of those whose trophy jacket is plastered sweatily to her sticky back.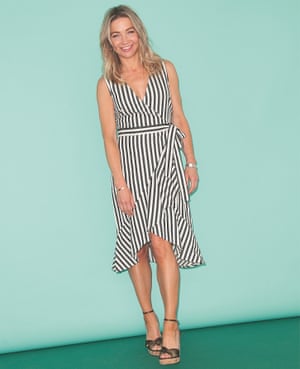 So I suggest that a medium-coverage, non-wafty, smart-ish dress is the piece to bridge the gap between late summer and the onset of proper jumper weather. The conventions of what passes as smart-casual have taken a battering in many offices over this long hot summer, and a dress that gently but firmly hits the reset button after August's dalliances with beachwear-as-officewear is called for. The new-look wrap dress is perfect for this. Diane Von Furstenberg invented the wrap dress in 1974, and it quickly became the uniform of the most fun woman in every office. Which makes it perfect for what we need fashion to do at this time of year, which is add shine to what are essentially the dull bits of life.
The 21st-century wrap dress is less slinky, more structured than the original. This makes it more flattering – those self-tie belts are tricky unless you have washboard abs – and also gives it more propriety. Bit more of the head for business and less of the body for sin, as it were. Which pretty much sums up September, come to think of it.