The prairie dress, equally jarring to the eye, was interpreted in multiple variations by Raf Simons for Calvin Klein 205W39NYC for fall 2018. One version of the ankle-length style comes with pintucking and a wide, ruffle-trimmed collar. Only its deep V-neck prevents it from looking Amish. Cost: $3,900. At Calvin Klein, the look is part of a collection that examines a broad swath of Americana that also includes firefighter jackets, cadet shirts and heirloom quilting.
"It's not just about taking what your grandmother had in her wardrobe," Maggioni says. "It gets adapted to taste nowadays."
The brand Batsheva is fully committed to the prairie: Laura Ashley meets Gunne Sax meets grunge. Its $420 floral cotton dresses have puffed shoulders and a ruffled Peter Pan collar. Some have ruffle-trimmed patch pockets. They are sometimes paired with co-ordinating bonnets for maximum fashion effect. Vogue delights in them.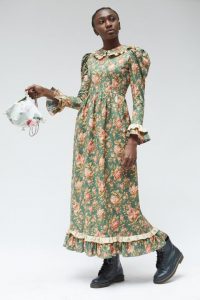 Wearing these styles with aplomb is like executing the triple axel of fashion: high level of difficulty, significant risk of failure, tremendous bragging rights if accomplished.
But why? Why would Batsheva Hay — who grew up in Queens, New York and not on some windswept Nebraska prairie, who is a Georgetown-educated lawyer, not a goat farmer — create an entire line of pioneer dresses that look like they should come with their own lean-to?
"I always wore vintage," she explains. "But when I started working as a lawyer 10 years ago, I couldn't wear all the clothes I'd collected. Then I quit and had kids and thought, 'I can do what I want.' "
She'd moved to the upper west side of Manhattan. She noticed that many of older people were tooling around the neighbourhood in Laura Ashley-style dresses, sneakers and fanny packs. Her mother was a hippie in the 1960s. Her father is Israeli. She was named after a figure from the Old Testament who is sometimes equated with feminism. After having a baby girl, she became obsessed with mother-daughter dressing. This tornado of influences led her to create a retro, Old World, earthy collection that refuses to sexualize the female form while also playing on traditional femininity.
The prairie dress "is a style that crosses all these cultures. People wear them in eastern Europe and in the southern U.S. I loved the colours and the patterns," says Hay. "I started making them from personal desire and need, and I wore the crap out of them. "
She launched her collection two years ago. The dresses are now a thing among fashion insiders. And if you look at them closely and allow your eye to adjust, perhaps you can imagine them worn with roughed-up hair and a pair of mod boots or a fancy pair of sneakers.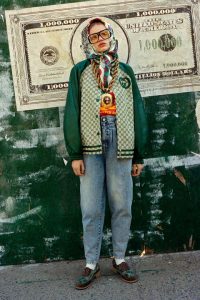 The thing you most certainly wouldn't wear these dresses with is a pair of prissy heels. "I can't wear a dress with a pair of pumps," Sheffman says. "It just seems so wrong."
The pathway to this point began — where? Fashion has cozied up to the ugly esthetic in the past, most notable in the late 1990s when Prada rose to prominence with its eyesore prints and murky colours. But this go-round may best be traced back to normcore, that short-lived antifashion uprising that found its way into trend reports around 2013, promoting unremarkable clothing as hip. Throw in a bit of Dad Style. Mix in a rising revulsion with Instagram faux-perfection. Add a dash of fashion-hate from the masses. And tip your hat to brands such as Vetements, Balenciaga, Y/Project, Gucci and a host of others that championed unorthodox beauty and gender fluidity.
"Back in the day, luxury usually meant femininity. It meant a beautiful bag or a beautiful cashmere sweater," Sheffman says. "Most of these items have a lack of femininity."
"It's almost a revolt against luxury as we know it," she says. "Instead of attention-seeking with extraordinary luxury, they went for the mundane."
These antifashion looks were also born out of the collective ennui of fashion insiders searching for something more authentic. These products exude unpretentious, sexless populism.
All of this is a reminder that the fashion industry has stopped dictating fashion. The Seventh Avenue elites have ceded control to the hoi polloi. And this is what your next-door neighbours have come up with. "The consumer is dictating lifestyle fashion," says Shelley E. Kohan, an assistant professor at the Fashion Institute of Technology specializing in retail. Brands are "taking the feedback and adapting the information and putting it back into the supply chain."
In other words, consumers are responsible for these waves of ugly. We the People are trolling ourselves. But this doesn't necessarily mean the great unwashed have somehow sapped fashion of its power to hypnotize and woo.
"Designers look around and say, 'If people want to wear Birkenstocks, I'm going to get my market share.' And they design velvet Birkenstocks or jewelled Birkenstocks," Sheffman says.
Givenchy made $295 rubber slides with its brand name stamped across the top. Gucci has a fresh offering in partnership with Dapper Dan. The Walmart version of this glorified shower shoe is $9.99. If authenticity is the irresistible elixir in all of this, "is it cooler to have the designer version or the original?" asks Sheffman. "It's better to have the original as with anything. It's that honesty, integrity thing."
But it takes a certain inner confidence to walk into a fancy gathering wearing a pair of 10-buck, no-name shower shoes. Most people won't. They're more inclined to flip-flop around town in Fenty Puma by Rihanna $90 ones because they've been tweaked just so and have been stamped with her approval. "The designers are laughing because they still have the power and clout to get everyone jazzed up," Sheffman says.
Eventually, inevitably, the fashion pendulum will swing. The jarring, quirky ensembles will begin to look a little dated. A more refined and polished facade will suddenly look fresh. Or maybe hyperfemininitymething will.
Until then, marvel at the fanny pack, which today is sometimes worn cross-body but can still conjure up images of sun-baked tourists waddling across the U.S. National Mall. "It's a great resurrection. It's more relevant today than it was in the '90s," Kohan says. "It's a great way to have your phone right there at your side and have your hands free."
Ugly fashion is, if nothing else, practical.