When the Duchess of Sussex stepped onto the grass at the Windsor's Royal Polo Club on Thursday to support Prince Harry while he played a charity match, one could see it was with some trepidation.
The reason? Her heels. The beige sling-backs by Aquazurra were just that little too pointy in the stem to keep her from piercing the ground as she walked.
Meghan had teamed them with a Carolina Herrera resort dress in dark denim, featuring a thick belt, and practical pockets – which she put to use.
This was not the first time she has chosen Carolina Herrera. Last month, at Trooping the Colour, she wore a pink, off-the-shoulder design, reminiscent of her Givenchy wedding dress.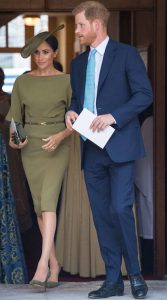 Meghan's choices are never accidental.
But whether it's an olive green, Ralph Lauren midi to her Prince Louis' christening or a bright yellow Brandon Maxwell shift to the Commonwealth Youth Challenge, one theme remains constant: Meghan looks like she's dressing for the office.
With the exception of the "tablecloth" Oscar de la Renta dress she wore to Harry's cousin's wedding, Markle has eschewed anything flowery, or floaty – anything, really, with flair, in favour of the type of dresses you wear when you know you have to dial-in to Skype your manager at 9am Eastern Standard Time.
Many fashion critics have pointed to the fact that, as she's now a royal, it's got to be all dull conservatism and flesh-coloured pantyhose from here on in. But critics might be forgetting the risks taken by her late mother-in-law, Diana, who thought nothing of wrapping herself up in oversized taffeta skirts, one-shouldered lilac dresses, or pale blue satin replete with power belts, and tiaras.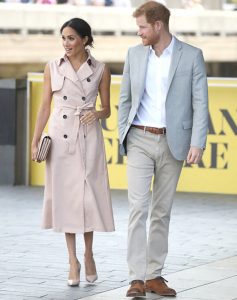 Even Kate, known for her love of recycling dresses, has been known to bust out a bit of floral and lace.
But the newly-minted Duchess of Sussex favours the uniform of corporate environments: olive, navy, black, belted shifts, business-style buttons, wrap dresses and absolutely no pattern to speak of. Even at Wimbledon, a place known for spectator flair, she chose stripes.
A superficial assessment of her sartorial choices would seem to suggest she doesn't want to "outshine" anyone, or worse, that she simply doesn't know how to really, well… dress. There's conservative, and then there is complacent. And then there is business casual, which is exactly what we seem to be getting from the duchess.
Well, she was on Suits for seven years, a TV series set in a law firm. But Meghan's character, Rachel Zane, wore ensembles as opposed to dresses, and, being that it was commercial television, the vast array of skirts and blouses worn by Meghan fitted her like wetsuits.
A quick scan of Meghan's design preferences – Ralph Lauren, Caroline Herrera, Brandon Maxwell Jason Wu – reveals another pattern: they've all dressed Michelle Obama, too. And this makes a certain sort of sense, for Meghan Markle always had public service work in her sights, even when she was a full-time actress.
It could be then, that Meghan made the decision, in order to prevent the sort of cognitive dissonance felt by any feminist upon assuming the role of a princess: you tell yourself you're more of a First Lady. But even Michelle Obama knew when to break out the sequins.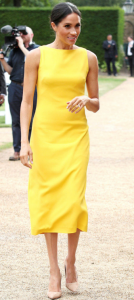 Further cementing the office theory: Meghan remains as steadfastly committed to that messy bun, (worn by junior office personnel the world over), as she is to Prince Harry.
No, Meghan is making a statement with every plain wrap dress, and nude pump, whether she is conscious of it or not. She means business.
And this is the uncomfortable fact of royal life. It doesn't matter that you're considered a "style icon", it doesn't matter that you rode in a horse-drawn carriage through a sleepy country town like some sort of contemporary Cinderella. The public pays you to shine a light on forgotten causes, represent the best of your country, and play diplomat to any foreign dignitary not yet won over.
Meghan is telling us what so many TV reality stars have said before her: "I didn't come to play."