London Arabia Art & Fashion Week celebrated its third birthday on August 1 with a glamorous launch event kick-starting 14 days of cultural activities, attended by the creme de la creme of creative talent from the Arab world. Guests were treated to an art exhibition followed by a fashion show, which featured clothing from some of the Middle East's top designers. However, it was a dress crafted from a former refugee tent that caught everybody's attention on the runway at the Jumeirah Carlton Tower hotel in Knightsbridge.
Dress for our Time, by acclaimed British designer and humanitarian Helen Storey, is made out of a decommissioned United Nations High Commissioner for Refugees tent, which had previously been used by a family in Jordan, who had fled the conflict in Syria. Debuting as an installation to explore climate change and its human impact, the dress has been shown at the United Nations in Geneva, the Pyramid Stage at Glastonbury Festival, London's Science Museum and American University Dubai.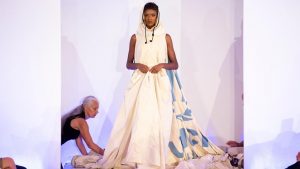 Speaking to The National moments before the dress hit the runway, Storey explains that fashion is a good way to connect people to ­difficult subject matters. "The dress has been showcased around the world in different ­situations. It is really about using fashion in service to something else," she says. "People often feel impotent or overwhelmed by things like climate change or the ­migration crisis. This is an attempt to use a medium or a message that we are attracted to, which is fashion and what we look like."
The dress, which still bares stains on it from when it was used as a tent in Jordan, was paraded to a front row that included royalty and diplomats. "What I like about this event," Storey adds, "is that you have some of the richest people in the world next to a cause like this, which represents some of the most impoverished people in the world."
The migration crisis was a key theme of the evening, and UNHCR's representative to the United Kingdom was invited to speak before the fashion show began. Gonzalo Vargas Llosa praised the Arab ­community's response to the crisis, which has left an estimated 65 million people displaced. "The numbers of men, women and children fleeing their homes as a result of conflict and persecution in the world has reached alarming ­numbers," he says. "In the face of this huge and dramatic forced human displacement, we have witnessed truly ­moving and extraordinary manifestations of solidarity and sympathy for refugees throughout the Arab world."
Omar Bdour, event organiser and chief executive of London Arabia, meanwhile, spoke of the importance of culture in raising awareness of such issues. "The Arab world faces a unique conflict that other regions do not face. The resulting refugee crisis from the Syrian civil war and other conflicts still rages on. It is our ambition that culture, art, fashion and our communities can come together to help others to connect and engage."
Bdour says the aim of London Arabia Art & Fashion Week is to keep a cultural dialogue going between the UK and the Middle East. "The relations between the UK and the Arab world matter more today than ever before. The potential for misunderstanding between our regions remains high, and the need for us to work ­together has never been greater. That is why it is so important to come together to celebrate the Arabic culture in the heart of London."
Also showcasing their work on the runway were Haya Al Kharafi, founder of AlJawhara Designs, renowned for its hand-crafted kaftans and Arab evening dresses; the El Hajjouji sisters whose Rafinity Haute Couture brand creates beautiful Moroccan dresses; Kuwaiti designer Sahar Al Homoud, founder of My Boutique; and Saudi designer Lamya Al-Samra, founder of celebrity-favoured brand Las Boutique. Closing the show was social enterprise Brides do Good, which sells pre-loved designer wedding dresses with proceeds going to ­children's rights charities such as Plan International and Too Young to Wed.
The art exhibition, meanwhile, featured works by Saudi painter Hanan Bahamdan, Emirati cross-disciplinary artist Sarah Alagroobi and Iraqi visual artist Lina Ogaily. London-based Ogaily explains how the use of colour in her paintings has changed in response to the conflict in her homeland and in the region at large. "About 10 years ago, I used very bright colours, but then the colour palette changed to reflect the mood that changed in the region because of everything that happened. I lost connection with the colours and resorted to using a palette that was purely shades of grey," she says. "But just recently, over the past nine months, through a lot of ­pressure, I have turned back to colours in a very discreet way. A touch of red, a touch of pink, a touch of purple – bringing the hope back in."