Crazy Rich Asians Delivers a Wedding Dress So Extravagant, You'll Know It Was Designed For a Billionaire
Thanks to a cast of clothing-obsessed characters with unlimited budgets, we have high hopes that the screen style in Crazy Rich Asians will join the canon of our beloved fashion films like The Devil Wears Prada and Sex and the City. Setting the bar high, I know, but with just a glimpse of Araminta Lee's wedding gown, you'll know it's going to live up to the hype, thanks to the work of costume designer Mary Vogt.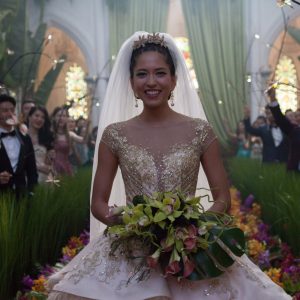 The stunning creation was dreamed up by Mary herself and is, in fact, a jumpsuit. As Mary revealed to Page Six, she watched YouTube videos of actress and ballet dancer Sonoya Mizuno dancing before designing the look and wanted an outfit that would "emphasize how beautifully she moved." The result is a tiered skirt that's open in the front with pants underneath — and totally takes our breath away, thanks to a smattering of shimmering Swarovski crystals. Suffice it to say, it is exactly the type of extravagant wedding dress you'd expect from a character who is, plain and simple, crazy rich.