The delicate and classic bow perfectly captures elegance, charm, and femininity. An ordinary piece of clothing can become special with the addition of a simple bow adornment, which simultaneously exudes a feeling of sophistication and playfulness. These 10 bow-adorned clothing items are here to boost your look, whether you want to channel your inner Audrey Hepburn or add a touch of contemporary flair to your wardrobe. Each piece, from dresses to blouses, has been carefully chosen to help you create a style that celebrates your femininity and is beautiful and chic.
1. Mestiza New York's Stephanie Bow Dress – Yellow and White
Wearing the Stephanie Bow Dress from Mestiza New York, you'll radiate sunshine wherever you go. This perfectly designed dress is given a whimsical touch by the small bow at the neckline. It's ideal for breakfast dates or garden parties because the combination of yellow and white inspires feelings of enthusiasm and freshness. Your femininity is subtly accentuated by the beautiful silhouette that is created by the fitting waist and flared skirt.
Stephanie Bow Dress
2. Vania Romoff's Sabine Dress with Bow
Vania Romoff's Sabine Dress with Bow is a masterpiece for a look that marries romance and modernism. The dress has a distinctive and alluring twist thanks to the enormous bow embellishment of the bow. It`s a mix of formal and semi-formal which would save you in times when you don`t know what you should wear.
This item is proof of the designer's skill in fusing traditional features with modern design. You will look effortlessly chic and absolutely feminine in this dress, whether you're going to a wedding or other special occasion.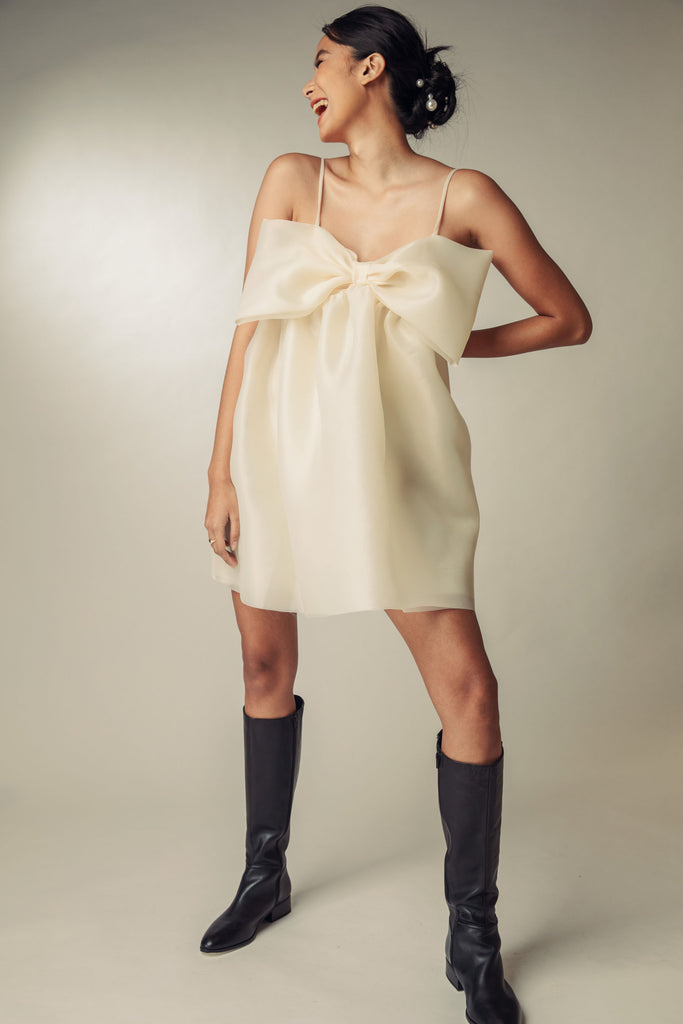 Sabine Bow Mini Dress
3. REDValentino's Long and Midi Dress with Bow
The dress by REDValentino embodies classic elegance. The long, midi dress with a bow has a chic style and a bow-decorated neckline that emphasizes your collarbone. The dress's subtle pleats and A-line silhouette lend it an elegant gait, and its neutral color scheme enables a variety of style options. This dress is proof that, when it comes to expressing your femininity, sometimes less is more.
This dress can give you a simple yet iconic look. With a small pendant necklace, you can look absolutely stunning
TAFFETA DRESS WITH BOW
4. Bow Back Peplum Top
Every woman needs a multipurpose shirt that easily fuses class and frivolity. This is exactly what the Nordstrom Bow Back Peplum Top does. The bow feature at the back gives a touch of charm while the peplum silhouette draws attention to your waist. It`s perfect for a cute and casual date where you want to dress up but don`t want to overdo it. This blouse is a lovely addition to your wardrobe, whether you're dressing up for a formal occasion or wearing it with jeans for a casual outing.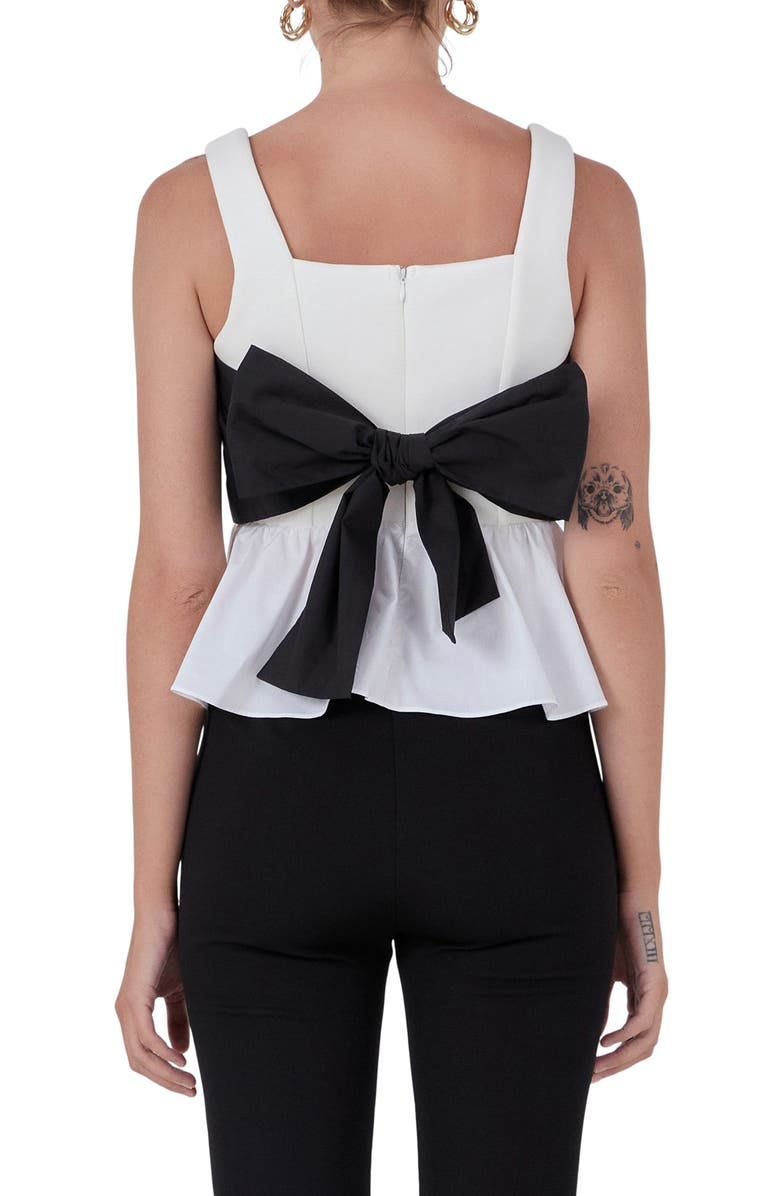 Bow Back Peplum Top
Endless Rose
5. Bow-Detail Camisole Top
This Bow-Detail Top will give your everyday look a dash of bow-inspired flair. This item highlights the bow on the breast to create a beautiful yet understated focal point. Your outfit will have more movement thanks to the flared silhouette, and the bow accent will give it a touch more femininity. For a chic look that's ideal for work or a laid-back weekend outing, pair it with a lovely skirt that can be tucked in.
Bow-detail Camisole Top
6. J.Crew's Tie-Neck Bow Blouse
Take advantage of J.Crew's Tie-Neck Bow Blouse's vintage-inspired charm. An understated bow is made at the neckline by the tie-neck design. This blouse is a functional item that can easily go from business meetings to social gatherings after work. It's a wardrobe need for the contemporary lady because of the lightweight fabric and loose fit, which ensure comfort without sacrificing style.
Tie-neck bow blouse
7. Evigrintela's White Shirt with Bow
Evigrintela's White Shirt with Bow gives the traditional white shirt a feminine touch. This outfit mixes a bow tie's charm with the classic appeal of a spotless white shirt. The bow feature is skillfully positioned, adding a distinctive visual element that improves the entire appearance. This shirt is a must-have wardrobe essential, whether you pair it with tailored pants for a polished appearance or with jeans for a laid-back day out.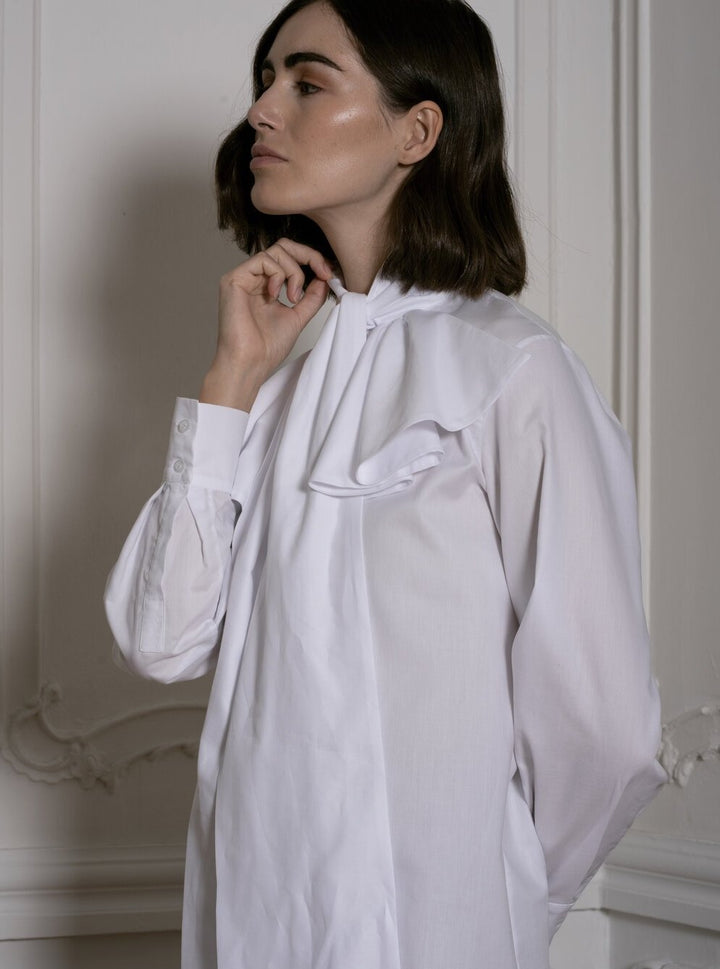 White Shirt With Bow
8. CeCe's Plaid Pussy Bow Blouse
With CeCe's Plaid Pussy Bow Blouse, let your inner fashionista go. The pussy bow accent has a retro appeal, while the plaid pattern gives a touch of refinement. This top deftly blends femininity with a dash of androgynous style. For a sophisticated workplace look, use it with fitted pants or a pencil skirt. You can also wear it with jeans for a stylish weekend look.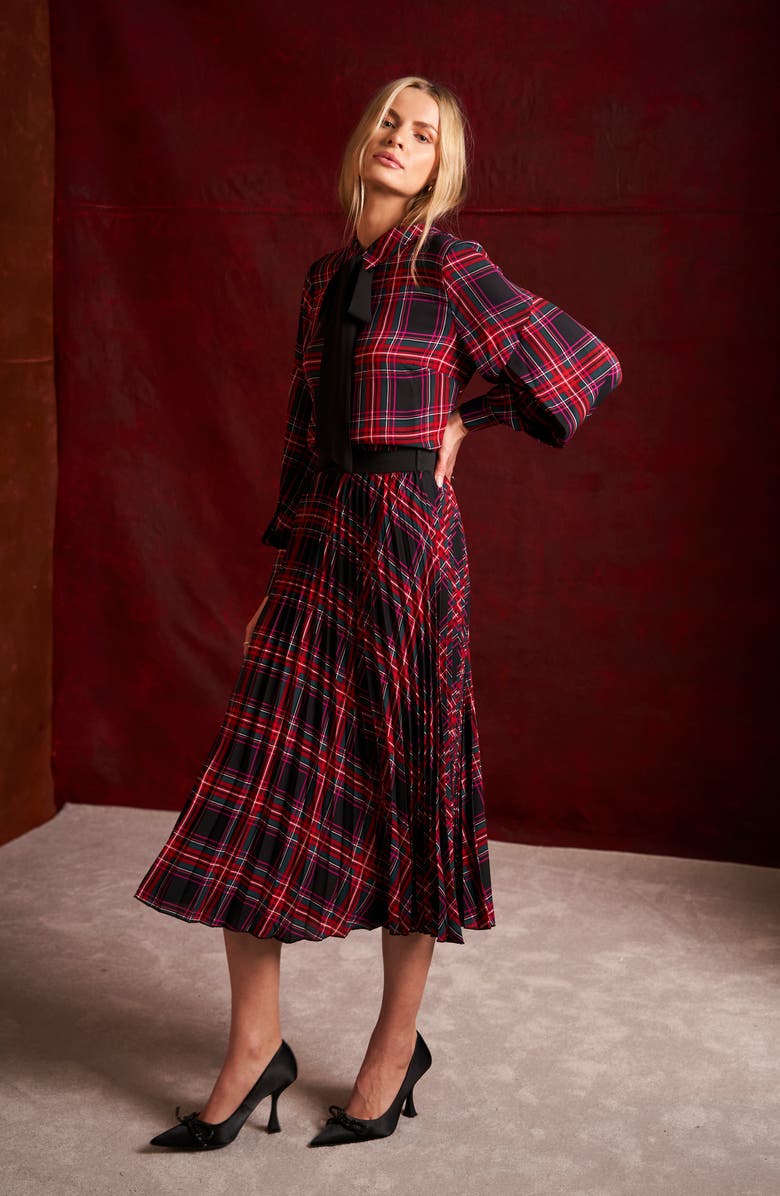 Plaid Pussy Bow Blouse
9. Tory Burch's Striped Viscose Bow Blouse
The striped Viscose Bow Blouse by Tory Burch is a striking piece. The large bow and strong stripes work together to produce a lively and striking appearance. This blouse smoothly combines traditional and modern design elements, making it appropriate for a variety of settings. The airy material has a lovely drape that accentuates your figure and exudes self-assurance in your fashion choices.
STRIPED VISCOSE BOW BLOUSE
10. Bow-Detail Blouse
The Bow-Detail Blouse from H&M is a stylish must-have for modern fashion. The sleek and simple style is given a feminine touch with the bow embellishment at the waist. It takes little styling work to look polished and put together with this striking jumpsuit. This jumpsuit guarantees you'll draw attention at a cocktail party or dinner date for all the right reasons.
Blouse with Bow Collar
Including bow-adorned clothing in your collection is a charming approach to adding class, charm, and femininity to your look. These ten carefully chosen items give a wide range of alternatives to explore, from dresses that flow with grace to blouses that balance vintage and modern aspects. The bow-inspired clothing and accessories stated above are your key to obtaining an effortlessly cute, chic, and feminine look that is totally yours, whether you're going for a fun appearance or refined appeal.