Fashion designer Virgil Abloh has teamed up with Nike to design tennis player Serena Williams' kit for this year's US Open, which includes a black ballerina-style dress, a bomber jacket and tagged "Queen of Queens" sneakers.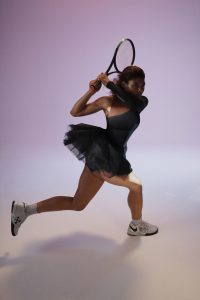 Abloh and the sports brand designed The Queen Collection for Williams (only pictured in the top image) to wear on- and off-court during the US Open Tennis Championships, which takes place in New York borough Queens later this month.
The collection comprises two dresses, a bomber jacket, three sneakers and a bag, and is described by Abloh as "blurring the lines of sport and fashion" in a post on his Instagram account.
"With Serena, we have one of our generation's most powerful, inspiring athletes as the muse," added a statement from the designer, who heads up fashion labels Off-white and Louis Vuitton. "I was trying to embody her spirit and bring something compelling and fresh to tennis."
Breaking away from the traditional white tennis kit, the dresses come in black and purple, and have a "ballerina-esque silhouette" that draws on Williams' interest in dance. A tulle skirt flares out from the waist to allow for easy movement.
"What I love about tennis is the gracefulness," said Abloh. "It's an aggressive and powerful game, but it takes touch and finesse."
"So the dress is feminine, but combines her aggression," he continued. "It's partially revealing. It's asymmetrical. It has a sort of ballerina-esque silhouette to symbolise her grace."
The skin-tight upper portion has mismatching arm lengths – one is full length while the other is short – and a flesh-toned section to make it look as if it is off-the-shoulder. The ensemble is made out of mesh to keep her cool while playing in New York's summer humidity.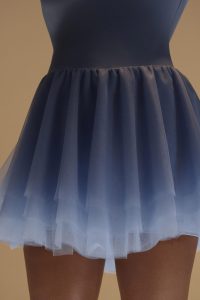 Additional quirks added to the clothing include the word "logo" emblazoned in capital letters and quotation marks above the Nike tick on the breast. "SERENA" is also written on the arms, following Abloh's signature quotation-style slogans that he added to his recent designs, such as his homeware for furniture brand IKEA.
White stitching runs along the edges of the button-up black jacket, which Williams will wear off-court, and also forms diagonal markings across the front and the arms. A pair of white arrows adorn each of the cuffs and other features include a strap that crosses over the front.
Nike – which is currently constructing a building named after Williams at its headquarters in Beaverton, Oregon – is planning to roll out items from the collection in selected US stores to coincide with the event, which commences on 27 August 2018 and runs until 9 September 2018.