Each year comes with so many possibilities, and the weather conditions go on to determine our fashion requirements. Spending rainy days at home with a cup of tea and a good book is no more an option for those with hectic lifestyles. Moreover, every time there is a heavy downpour, we lose interest in dressing up. Having said that, the wet weather can't stop you from looking stylish. Monsoon is the right season to put together a cheerful wardrobe with bold colours and fancy cuts.
Colours play an important role during monsoon. While we traditionally choose to dress up in darker hues like blues, blacks and greys, the trend this season is to go for bright colours.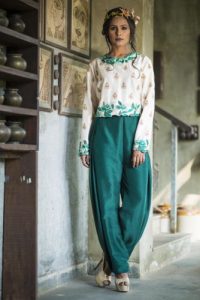 In sync with the trends that were set in summer, neons, pinks, yellows, lavenders and other happy colours have found a predominant place this season as well. These eye-popping shades not only look trendy but can also brighten up your mood to face an otherwise gloomy rainy day.
Jazz up your wardrobe with pop colours and lighter fabrics. Let your clothes evoke the haute look. Pack away those stilettos, leather shoes, sheer tops and pastels and switch to waterproof sandals, colourful umbrellas, bright palazzos and hararas.
Bright neon or light shades like ocean blue, sea green, peachy pink and lavender can work wonders to uplift your mood during a downpour. This is colour therapy at its best. If you're looking at adding more clothes to your wardrobe, here's a list of must-have colours for this season:
Pink:Go for bright fuchsias and lighter shades of pink. Adding a dash of pink to your otherwise drab wardrobe is a good choice. Nothing spells feminine chic like a pink bell-sleeved nice fashion dresses . Give form-fitting nice fashion dresses a break and embrace decidedly loose and languid flowing silhouettes. In monsoon, a roomy flowy ensemble is functional and elegant.
Yellow:Invest in a nice bright yellow tunic or skirt. This is the best pick-me-up you can gift yourself. It will not only cheer you up but will also make you look stylish and fun.
Orange:Like yellows, shades of orange are hot picks for this monsoon. Go for ensembles like short  kurtas and  shararas in brighter tones of orange or yellow. These clean-cut pieces are practical yet trendy.
Blues:Bright, sprightly blues are the other must-haves for the season. Instead of the usual navy blue, opt for the lighter shades like a topaz, teal or sky blue.
Neutrals:One can never go wrong with neutrals like brown, beige and cream. They can you look regal, sophisticated and are perfect for this weather.
Wearing pristine whites in the monsoon is definitely not a good idea as white clothes tend to get transparent when wet and can stain easily.
Make sure the silhouettes are "clean" in terms of cuts and patterns this season. Utilitarian styles like asymmetrical tunics, box-pleated shirts, peplum-style blouses would be a good idea in the weather.
Get riskier and see what you can get away with! The highlight of this season is a burst of fresh colour like lime, yellow, peach, indigo, shades of pink such as fuchsia to baby pink and neutrals such as beige and brown. Modern to contemporary or traditional to trendy steal the limelight by adding colours to your outfits.
Be bold and just be your beautiful self this monsoon. We are talking rich hues, fresh prints, short numbers, light fabrics and just the right amount of layering to give monsoon a fashionable spin. Play with proportions, avant-garde pieces, and finish off your look with a light dewy make-up. Go get your wardrobe ready for the shabby months!
Monsoon fashion 101
As far as fashion is concerned, monsoons are tricky no matter which part of the world you live in but if you are a resident of Bangalore, the situation becomes even more challenging!
The changing weather pattern through the day from sunny to cloudy to heavy showers in a matter of hours can always leave one wondering how to dress when they get ready for the day. Besides, the constant road work and puddles everywhere make one cringe at the thought of spoiling their outfits and shoes!
One of the best tips I can think of is to choose the material of your outfit carefully. Waterproof your overall look in as many ways as possible. This can be taken as a general suggestion across all age groups。
Choice of material
If ethnic fashion is your thing, then the first step is to try and select fabrics wisely. For these few weeks, avoid thick cotton and khadi . Instead, go for the dry fits. Anything light and synthetic which dries without much hassle while you are on the move will be a good choice. Georgettes and chiffons are always a good choice. You can sport a more floral, breezy look with pastel shades which are standard in these materials.
Also, with monsoons being the season of weddings, you got to stock up for it. Though sarees are not something we would advise you to wear this season but weddings call for a bit of grandeur.
You might think silk is not the right choice for the rainy season, but light-weight silks such as crepe and Mysore silk tend to dry in a jiffy and also give you a rich look. For those who are open to experimenting, we recommend the pant saree which is stylish, trendy and easier to manage.
Choice of fit
Choose churidars or leggings instead of palazzos. A well-fitted garment will always be easier to manage than a loosely fitted one which if you get caught in the downpour, will weigh you down. Similarly, in tops, go for the short kurtas with a slim fit instead of baggy clothes.
Choice of accessories
If you are fond of leather, don't take a chance with them. They are best packed away for these couple of months. Try some of the quirky PU accessories to add a pop of colour. Plastic shoes, sandals and handbags are available in all colours these days. Select a couple of styles which will go well with the kurta-jeans look, and the long kurta and churidar look. So you can safely keep your leather shoes and handbags away without compromising on your style. Avoid fabric in your footwear and footwear with delicate embellishments.
Choice of make-up
Keep aside all your waterproof and smudge proof make up for the season. In bindis, try experimenting with the stick on ones to avoid getting them washed off or worse still streak your face with colour.
Choice of hairdo
As far as the hairdo is concerned, go for braids and buns which are neat and can be easily let down if wet. Skip the elaborate blow dried curls and straightened hair as that will just frustrate you.
Accessorise instead with hair pins, clips and the chopstick look in your top knot. So armed with these simple tips, you can confidently tackle the weather and even joy the rains without having to worry about ruining a good pair of shoes or a nice outfit!