Cardi B Served Up Major '80s Vibes With Her Smokin' Hot VMAs Dres
When Cardi B is set to open the 2018 MTV VMAs, followed by stars like Ariana Grande and Jennifer Lopez, who'll be hitting the stage to receive the Video Vanguard Award, you can expect buzzy looks with viral potential. Who will wear the tightest dress, putting her famous curves on display? Who will wear the tallest, strappiest shoes or perform in something impossibly daring?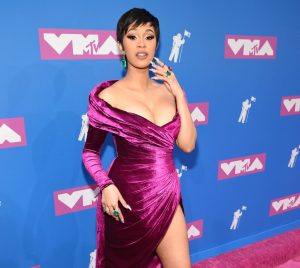 But before we digest every wardrobe change and deem certain celebs the most confident dressers in the room, it's time to take in the arrivals. While so many sexy outfits have gone down in VMAs history, the initial red carpet statement is often what sticks with us. On that note, scroll to see who showed up in what.